Color coated aluminum coil (prepainted aluminum coil), which is produced with aluminum coil and processed by coating with color, including PE (Polyester) and PVDF (Polyvinylidene Fluoride). Color coated aluminum coils have excellent aesthetics, durability, and corrosion-resistant. It is widely used in aluminum plate, aluminum veneer, aluminum honeycomb panels, aluminum ceiling, shingles, scrap, pop-top, electronics. Flait Aluminum produces color coated aluminum coil of 1000 series, 3000 series, 5000 series and 8000 series.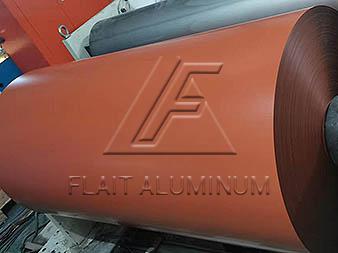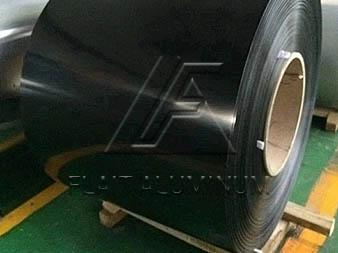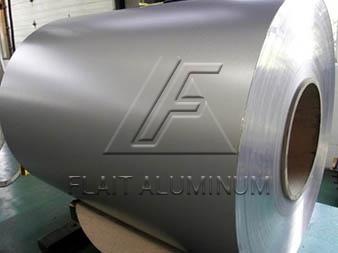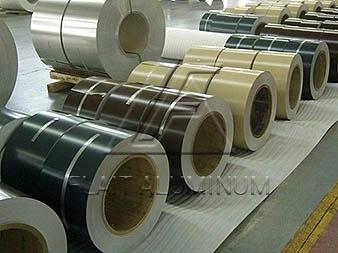 PE Color Coated Aluminum Coil
PE (polyester) coating is high molecular polymer as monomer and addition of alkyd, is an UV-resistant coating. It can be classified matt and glossy according to coating gloss. The compact molecule structure, makes paint surface luster and smooth,which assure good printing on the panel surface. With a warranty of 8-10 years for weather resistance, it is specially applied for internal decoration and sign board. PE coatings are commonly used for interior applications, such as indoor ceilings, walls, and decorative elements.
PVDF Color Coated Aluminum Coil
The PVDF color coated aluminum coil uses PVDF paint of famous brands like PPG, VALSPAR and NIPPON, which goes through duplex or triplex coating and high temperature baking to form 25–35μm thick cured coating. As the PVDF coating provides corrosion resistance, high weather ability, strong adhesion, high self-cleaning capability and is maintenance-free, the aluminum coated coil can remain color fast and durable for 10–15 years. These coatings are commonly used in exterior architectural applications, such as building facades, roofing systems, and signage.
Specification of color coated aluminum coil
| | |
| --- | --- |
| Alloy | 1100, 3003, 3004, 3105, 5006, 5052, 8011, etc. |
| Temper | O, H12, H14, H16, H18, H22, H24, H26, H28, H32, etc. |
| Thickness(mm) | 0.08-5.00 |
| Width(mm) | <2650mm |
| Length(mm) | C |
| ID | 150mm ,405mm, 505mm, 508mm, 510mm |
| Coating Paint | PE, PVDF |
| Coating thickness | PVDF >=25micron POLYESTER>=18micron |
| Paint | PPG or Nippon |
| Color | RAL or as per customers' samples |
| Pencil Hardness | > 2HB |
| Coating Adhesive | Not lower than first grade Impact: no any crack (50kg/cm, ASTMD-2794:1993) |
| Impact resistance | No cracking and peeling (50kg/cm, ASTMD-2794:1993) |
| Bend Strength | >100 times |
| Standard | YS/T431-2000 |
Features of color coated aluminum coil
Environmental protection: Not easy to turn yellow, using chromium-free treatment liquid to make up for the defects of easy discoloration of the laminating board; the roller paint contains active chemical molecules, which promotes the formation of a protective layer on the surface of the material. Active chemical molecules are stable and easy to recycle, meeting environmental requirements.
Corrosion resistance: Because of its tight surface oxide film, it has strong adhesion, oxidation resistance, acid resistance, alkali resistance, corrosion resistance, decay resistance and UV resistance.
Color uniform, long-lasting, its color is even and delicate: Soft and colorful, avoiding the individual chromatic aberration of traditional spraying, no matter how large the ceiling, its color and color are consistent. Lasting and new.
Rigid joint, the strength of the board is extremely high: Rigid and tough combination, free to cut, slit, arc, balance, drilling, joint fixation and edge compression molding.
Application of color coated aluminum coil
PE coated aluminum coils:
– Interior decoration: ceilings, walls, partitions, and decorative panels in residential, commercial, and public buildings.
– Signage and advertising: signage boards, billboards, display panels, and advertising panels.
– Furniture and appliances: cabinets, shelves, decorative trim; and coating appliances like refrigerators, ovens, and air conditioning units.
– Transportation: vehicle interior trim, cargo trailers, and automotive body parts.
PVDF coated aluminum coils:
– Architectural exterior cladding: building facades, curtain walls, and decorative elements.
– Roofing systems: construction of roofing systems for both residential and commercial buildings.
– Signage and outdoor advertising: outdoor signage, large-scale billboards, signage boards, and other promotional displays.
– Industrial applications: manufacturing facilities, warehouses, and industrial equipment cladding.