Flait Aluminum air conditioner aluminum foil including bare aluminum foil, blue and gold hydrophilic aluminum foil, which also called aluminum fin stock foil. Air conditioner aluminum foil is mainly used in the production of heat exchanger fins, such as condensers and evaporators of air conditioner, refrigerator, automotive, etc. Hydrophilic aluminum foil can be surface-coated, usually blue and gold. Hydrophilic aluminum foil is a hydrophilic treatment of aluminum foil. Through special processing, a layer of hydrophilic layer is coated on its surface, and the condensed water will quickly spread out on the hydrophilic aluminum foil without condensing into water droplets, increasing the heat exchange area, speeding up the cooling and heating speed, and effectively avoid the noise caused by condensed water blocking the air flow. The main aluminum foils for air conditioning are: 8006 hydrophilic aluminum foil, 8011 hydrophilic aluminum foil, 3102 hydrophilic aluminum foil, 1100 hydrophilic aluminum foil, etc.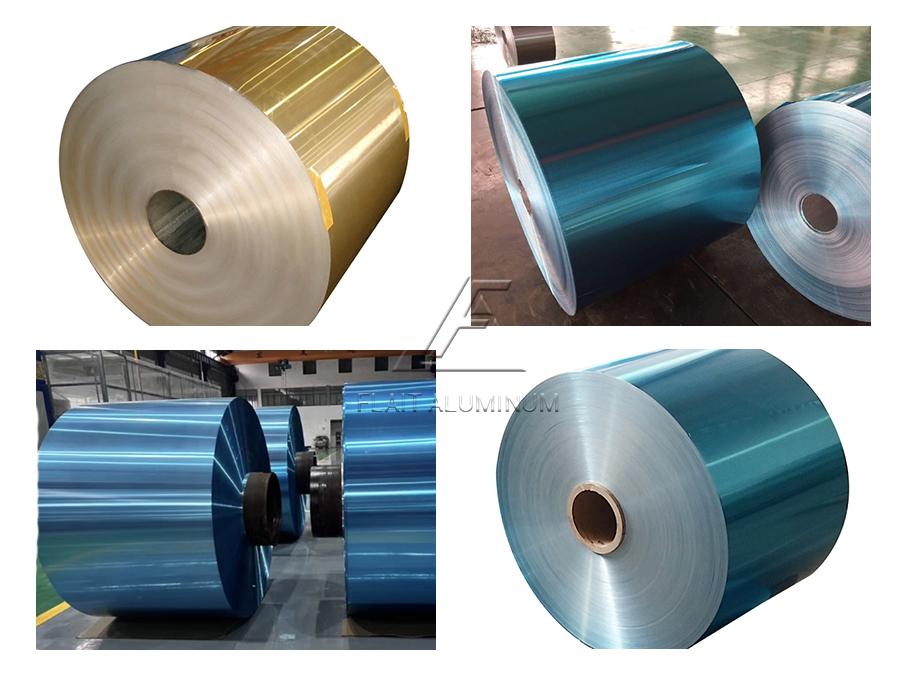 Advantages of Air Conditioner Hydrophilic Aluminum Foil
Effectively increase anti-corrosion, anti-mold, and odor-free functions;
Excellent hydrophilicity and corrosion resistance;
The condensed water accumulated on the surface of the heat exchange fins is evenly distributed on the surface, and the accumulation and blockage between the heat exchange fins will not be caused by the formation of water droplets, which will affect the heat exchange conditions, thereby increasing the heat exchange rate by 5%;
Since the water has no beads, the noise caused by vibration is correspondingly reduced;
Prevent the oxidized powder of the air conditioner from being blown into the room and have adverse effects on the human body.
Specification of Air Conditioner Hydrophilic Aluminum Foil
| | |
| --- | --- |
| Alloy | 8011/8006/1100/3102/1030B |
| Temper | O/F,H22,H24,H26,H18 |
| ID | 76mm,152mm,300mm,400mm,500mm |
| OD | 300-1250mm |
| Sleeve Material | Aluminum, carbon, steel |
| Thickness (mm) | 0.08-0.20mm |
| Width (mm) | 100~1250mm |
| Surface | Blue/Golden/ Bare (Pure) |
| Application | Air conditioner condenser, heat exchanger and evaporator etc. |
| Payment | 30% deposit + T/T / L/C at sight |
| Delivery Period | 35~55 days after receiving the deposit |
| Package | Wooden pallets, sea-worthy, with fumigation |
| Standard | EN,ASTM,DIN,GB/T-3198 |
| Shipment Port | Any port in China |
Alloy
Temper
Mechanical Performance under room temperature

Tensile Strength (σb, Mpa)

1100/1200
O
60-115
H22
90-135
H24
110-160
H26
125-180
H18
≥140
H19
≥150
8011
O
60-110
H22
90-150
H24
120-170
H26
140-190
H18
≥150
H19
≥160
3102/1030B
H26
125-145
8006
O
90-140
Original Source: https://www.flait-aluminum.com/Hydrophilic-Aluminum-Foil-For-Air-Conditioner-Heat-Exchanger.html
Tags: 8006 hydrophilic aluminum foil , 8011 hydrophilic aluminum foil