8006 Aluminum foil has high strength, good formability and ductility, excellent corrosion resistance. 8006 Hydrophilic aluminum foil is a hydrophilic treatment of aluminum foil. Through a special process, a hydrophilic layer is coated on the surface. The condensed water will spread quickly on the hydrophilic aluminum foil and will not condense into water droplets, increase heat exchange area, speed up cooling and heating, effectively avoid noise caused by condensed water blocking air flow. Hydrophilic aluminum foil can help increase refrigeration efficiency by 5%, and has the advantages of corrosion resistance, mildew resistance, and no odor. 8006 hydrophilic aluminum foil is the main raw material for air conditioning heat exchangers and is widely used in refrigeration equipment such as household air conditioners, refrigerators, and automobile air conditioners.
8006 Hydrophilic aluminum foil/8006 air-conditioning aluminum foil is mainly used to produce fins for heat exchangers such as air conditioners, evaporators, frost-free evaporators, etc. The air-conditioning aluminum foil is punched and flanged by a punch to become heat dissipation fins; tube threading, tube expansion, degreasing, and assembly to form a heat exchanger. Air-conditioning aluminum foil is used as heat-conducting fin material for air-conditioning heat exchangers. It has the advantages of low density, good thermal conductivity, easy processing, odorless, environmentally friendly and low price. Flait Aluminum can produce bare fins and hydrophilic coated aluminum fins. Colors available in blue and gold. The main aluminum foils for air conditioning are: 8006 hydrophilic aluminum foil, 8011 hydrophilic aluminum foil, 3102 hydrophilic aluminum foil, 1100 hydrophilic aluminum foil, etc. 8006 Air conditioning aluminum foil has good plate shape, good coating performance, high coating adhesion, good hydrophilicity and good corrosion resistance.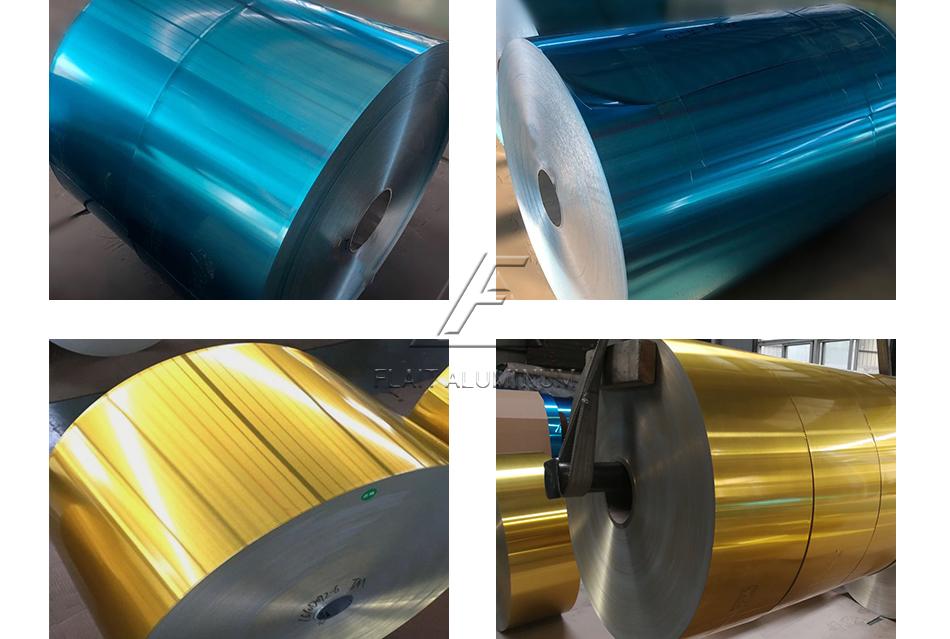 Packaging of 8006 HO/O Gold Pre-coated Hydrophilic Aluminium Foil Fin Stock for Heat Exchanger Air Conditioner
Flait Aluminum's aluminum foil products comply with export standards. Use pearl wool paper, plastic film and kraft paper to wrap the aluminum foil; then, use wooden case or pallet to protect the product from damage during transportation. There are two ways of packaging: one is eye to wall, the other is eye to sky. Customers can choose one way of packaging according to their own needs. 
Generally, 20ft GP container: 5898mm (Length)x2352mm(Width)x2393mm (High), loading 18-22 tons; 40ft GP container: 12032mm (Length)x2352mm (Width)x2393mm (High), loading 20-24 tons.
Specification of 8006 HO/O Gold Pre-coated Hydrophilic Aluminium Foil Fin Stock for Heat Exchanger Air Conditioner
| | |
| --- | --- |
| Alloy | 8011/8006/1100/3102/1030B |
| Temper | O/F,H22,H24,H26,H18 |
| ID | 76MM, 152MM, 300MM, 400MM, 500MM |
| OD | 300 – 1250mm |
| Sleeve Material | Aluminum, carbon, steel |
| Thickness (mm) | 0.08-0.20mm |
| Width (mm) | 100~1250mm |
| Surface | Blue/Golden/ Bare (Pure) |
| Application | Air conditioner condenser, heat exchanger and evaporator etc. |
| Payment | 30% deposit + T/T / L/C at sight |
| Delivery Period | 35~55 days after receiving the deposit |
| Package | Wooden pallets, sea-worthy, with fumigation |
| Standard | EN,ASTM,DIN,GB/T-3198 |
| Shipment Port | Any port in China |
Alloy

Temper

Mechanical Performance under room temperature

Tensile Strength (σb, Mpa)
1100/1200
O
60-115
H22
90-135
H24
110-160
H26
125-180
H18
≥140
H19
≥150
8011
O
60-110
H22
90-150
H24
120-170
H26
140-190
H18
≥150
H19
≥160
3102/1030B
H26
125-145
8006
O
90-140
Blue/golden hydrophilic aluminum fin stock coating

No.

Item Index

Technique Index

1
Bottom Coating
Epoxy Resin
Surface Coating
Acrylic Resin
2
Film Thickness
2.4-2.6µm(Single side average thickness)
3
Hydrophilic
Primary Contact angle ≤10°
Continuous Contact ≤20°
4
Adherence
Erichsen test (Press Depth 5mm): No peeling
Gridding test (100/100): No plunger separation
5
Corrosion resistance
Salt spray test (500hours)
6
Alkali resistance
Dipped in 20% NaOH in 20℃ for 3 minutes, absolutely no blister
7
Impregnant resistance
Sample's weight loss≤1%
8
Heat resistance
Under 200℃ for 5 minutes, performance and color unchanged
Under300℃ for 5 minutes, the coating film becomes a little yellow
9
Oil Proof
Dipped in volatile oil for 24 hours, no blister on the coating film
10
Odor of the coating film
No odor
11
Abrasion to mould
Same with ordinary aluminum foil
Original Source: https://www.flait-aluminum.com/Hydrophilic-Aluminum-Foil-For-Air-Conditioner-Heat-Exchanger.html
Tags: 8006 hydrophilic aluminum foil, 8011 hydrophilic aluminum foil, 3102 hydrophilic aluminum foil