1060 3003 5052 5083 Aluminum tread sheet plate coil, also called anti-slip aluminum plate, aluminum checkered plate, aluminum checker plate, aluminum chequer plate, pattern aluminum plate, aluminum textured plate. Aluminum tread plate is rolled with a roller press to form protruding patterns on the surface of the aluminum flat plate. There are many types of pattern plates, the most common one is the five bars pattern aluminum plate, which is shaped like five willow leaves.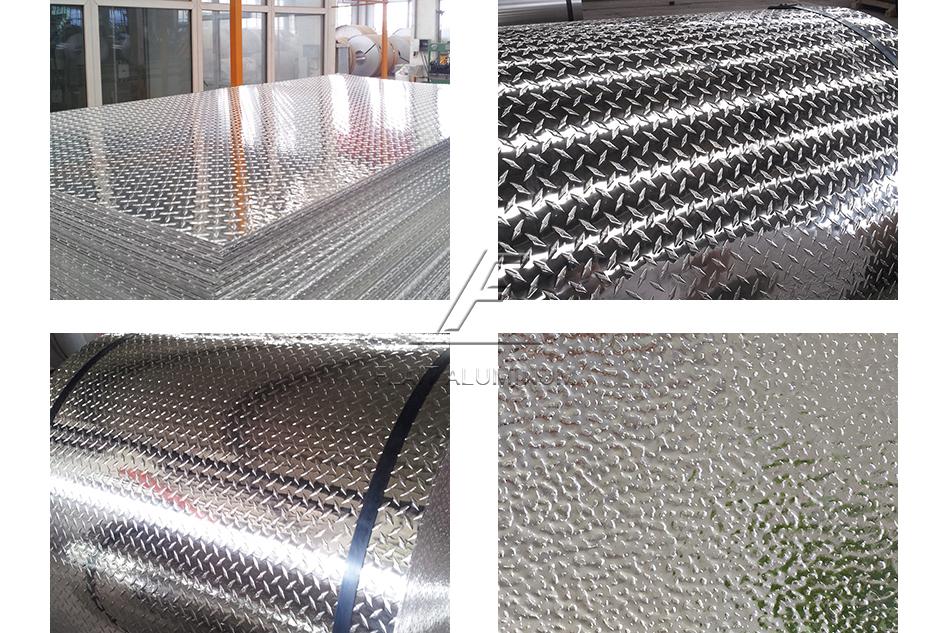 Classification of 1060 3003 5052 5083 Aluminum Tread Plate Coil
Ordinary aluminum pattern plate: 1060 aluminum tread plate is usually used in ordinary environments, has a wide range of applications and low price. 1060 pattern aluminum plate is mainly used in cold storage, flooring, outer packaging, etc.
Aluminum-manganese pattern plate: 3003 aluminum tread plate is also called anti-rust aluminum plate. Its strength is higher than 1060 aluminum tread plate, and it has good anti-rust function. However, its hardness and corrosion resistance are lower than 5000 series pattern aluminum plate. 3003 pattern aluminum plate is often used in places where rust prevention is not strictly required, such as truck models, cold storage floors, etc.
Aluminum-magnesium pattern plate: 5052 and 5083 aluminum tread plate have high hardness, excellent corrosion resistance and anti-rust properties. They have a certain load-bearing capacity, generally used in ships, carriage lights, and humid environments.
Pattern Types of 1060 3003 5052 5083 Aluminum Tread Plate Coil
Five bars pattern aluminum plate: Five bars anti-slip aluminum plate has good anti-skid ability and is widely used in building (floor) platform design and other anti-slip places. Because the pattern on the surface of the aluminum plate is arranged relatively parallel to five concave and convex patterns, and each pattern has an angle of 60-80 degrees with other patterns. Five bars pattern aluminum plate has excellent anti-skid properties, making it a preferred choice for safety-conscious applications.
Diamond pattern aluminum plate: The surface of the diamond aluminum plate has a series of small diamond-shaped protrusions, which have high compression resistance. It is widely used for packaging purposes and provide a beautiful and attractive appearance.
Pointer pattern aluminum plate: The pointer anti-slip aluminum plate has basically the same effect as the five-rib pattern aluminum plate, this pattern is widely used in vehicle flooring, service platforms, freezer floors, production workshop floors, and elevator cabins.
Lentil pattern aluminum plate: is also known as the "Dutch bean" pattern, it is a commonly used style of anti-skid aluminum plate with good anti-skid effect. It is mainly used for anti-skid carriages, platforms, anti-skid cold storage floors, anti-skid workshop floors, and anti-skid elevators.
Orange peel pattern aluminum sheet roll: classic orange peel pattern aluminum sheet coil, variant orange peel pattern aluminum sheet (also known as little bug pattern). Its surface shows a pattern similar to orange peel, which is a commonly used for refrigerators, air conditioners and packaging.
How to Check The Quality of 1060 3003 5052 5083 Aluminum Tread Plate Coil?
Check the color of the patterned aluminum plate. Although the external color is a factor visible to the naked eye, the color of the product is closely related to production process, quality control, etc. If the product is bright in color and has high gloss, it is generally better than products with poor color.
Choose patterned aluminum plates with uniform thickness, because some small manufacturers have difficulty in ensuring uniform and neat product thickness due to limited technology and equipment. Therefore, thickness is also an important factor in testing the quality of patterned plates;
Casting process of patterned aluminum plates. Our patterned aluminum plate will use integrated molding processes to improve the yield and reduce production costs while ensuring the superior performance of the product.
Specification of 1060 3003 5052 5083 Aluminum Tread Plate Coil
Alloy

1 Series

1060

3 Series
3003
5 Series
5052,5083

Temper

O, H12, H14, H16, H18, H22, H24, H26, H32, H34, H36, H38, H111, H112, H114

Thickness (mm)

0.8-8.0

Width (mm)

800-2500

Length (mm)

C

Surface

Bright finish, Mill finish
Bar difference
1 bar (Diamond/Pointer), 2 bar, 3 bar, big/small 5 bar

Sample

Free
Tags: 1060 aluminum tread plate, 3003 aluminum tread plate, 5052 aluminum tread plate, 5083 aluminum tread plate