Aluminum sheet plate for bottle cap materials are one of the advantage products of Flait Aluminum. The strength, elongation and dimensional deviation of the material are very strict when processing aluminum bottle caps, otherwise will occur cracks or creases. In order to ensure that the bottle cap is easy to print after forming, the surface of the bottle cap material should be flat, without rolling marks, scratches and stains. The main aluminum sheets plates for bottle caps are 1xxx, 3xxx, 8xxx aluminum alloy, including 8011 aluminum plate, 3105 aluminum plate, 1060 aluminum plate, 3104 aluminum plate, 5052 aluminum plate, and so on; tempers are H14, H16, H18, etc.; the thickness is 0.15-0.5; and the width is 200-1600mm; thickness tolerance is ±0.005mm, width tolerance is ±1mm.
8011 aluminum plate for bottle caps has good deep drawing performance, low ear making rate, and certain strength after work hardening. Usually 8011 aluminum sheet is used to make ROPP caps, PP caps, anti-theft caps in rolls, anti-theft caps, aluminum bottle caps, aluminum screw caps, tear-off caps, flip caps. In addition, 8011 aluminum sheet is an ideal material for producing PP caps for whiskey and other beverage bottles. 8011 aluminum sheet has light weight, good barrier property and formability.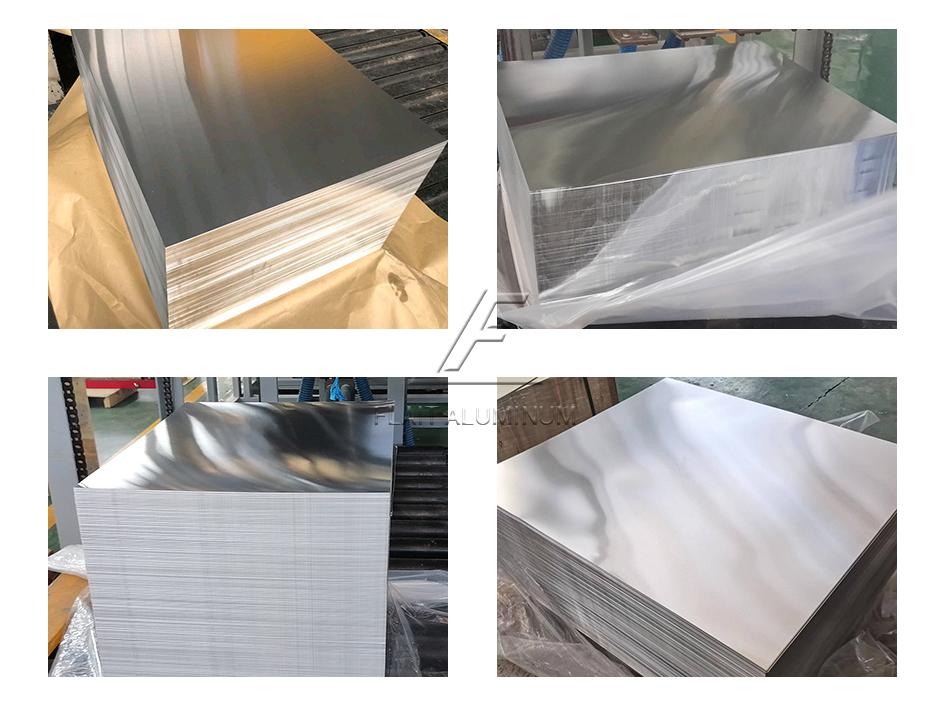 3105 aluminum plate is an ideal material for the production of bottle caps. It is very suitable for making bottle caps for wine bottles, beverage bottles, soft drinks, juices, energy drinks and high-end cosmetics. Compared with the 8011 aluminum plate for bottle caps, the 3105 aluminum sheet for screw caps has enough strength and can withstand larger gas pressure. 3105 aluminum sheet is widely used to make screw caps for soda water, carbonated wine and other soda bottles. Also, the 3105 aluminum sheet for bottle caps can be printed in different colors and decorated with different styles of wine bottle caps and other bottle caps after being treated with chromium phosphate or DOS coating.
5052 aluminum sheet strip is mainly used for bottle caps of cans. The hardness of magnesium is better than other alloys, which ensures the good shape of cans during transportation. Also, it is the most widely used rust-proof aluminum. The material of the pull ring can cover is generally processed by 5052 and 5182 aluminum plates, and the pull ring handle is also used 5182 aluminum alloy. 5052 / 5182-H19 aluminum plate for bottle caps has low density, light weight, smooth surface, good hand feeling, flexible deformation after stamping, and is not easy to crack. The most important thing is that it is environmentally friendly, easy to recycle and reusable.
1060 aluminum plate has high elongation, tensile strength, excellent electrical conductivity, high formability, and can meet processing requirements (stamping, stretching) requirements. The bottle cap is made by combining 1060 aluminum plate and plastic. Since the aluminum-plastic assembly will be in contact with the liquid in the bottle, most of them are used in the cosmetics industry, and some are used in the pharmaceutical industry (sealed caps for injection bottles). 1060-H24 aluminum plate for bottle caps is mainly used for wine, beverages (with or without gas) and medical care products, and can meet the special requirements of high-temperature cooking and sterilization.
Specification of 8011 3105 1060 5052 high quality aluminum sheet for bottle cap closure

Alloy

1060
8011
3003
3105
5052

Temper

O,H22,H24
H14,H24,H16,H26,H18
H14,H24,H16,H26,H18
H14,H24,H16,H26,H18
H18,H19

Thickness

0.15-0.5mm

Width

500-2500mm
Rolling Process
CC/DC

Surface Treatment

1. Plain mill finish aluminum strip
2. DOS oil lubricated finish
3. Chromated finish
4. One side golden/white/red/blue/black,etc other colored, other side protective lacquered
5. Both sides clear/transparent lacquered

Application

Bottle caps, aluminum liquid caps, red wine caps, anti-theft caps,
perfume caps, skin care product caps, cosmetic caps, oil caps,
aluminum-plastic composite caps for oral liquid,
aluminum-plastic caps for infusion bottles, etc.

Delivery time

25-30 days

Package

Export package

Samples
 Available
Mechanical properties of 8011 3105 1060 5052 high quality aluminum sheet for bottle cap closure
Alloy

Temper

Thickness (mm)

Tensile strength (Rm/Mpa)

Elongation(%)

Earing ratio (%)

1060
O
0.15-0.5
55-95
15
6
1060
H22
0.4-0.5
75-110
6
5
8011
H14
0.15-0.5
125-165
2
3
8011
H16
0.15-0.5
130-165
1
3
8011
H18
0.2-0.5
≥165
1
3
3003
H14,H24
0.2-0.5
145-185
2
4
3003
H16,H26
0.2-0.5
170-210
1
4
3003
H18
0.15-0.5
≥185
1
4
3105
H14,H24
0.2-0.5
150-200
2
4
3105
H16,H26
0.2-0.5
175-225
1
4
3105
H18
0.2-0.5
≥195
1
4
5052
H18
0.2-0.5
280-320
3
4
5052
H19
0.2-0.5
≥285
2
4
Original Source: https://www.flait-aluminum.com/Aluminum-Sheet-Coil-for-Cap-Closure.html
Tags: 8011 aluminum sheet , 3105 aluminum sheet , 5052 aluminum sheet , 5182 aluminum plate , 1060 aluminum plate