Currently, the materials used on oil tank trucks are mainly carbon steel and aluminum alloy. For oil tank trucks under 10 tons, carbon steel materials can be selected, because vehicles of this volume are generally used for mobile refueling and do not need to go on the highway, there is no need to consider the issue of overweight; tank trucks above 10 tons are usually made of aluminum alloy. Aluminum alloy tank trucks can not only significantly reduce the weight of the vehicle and improve transportation efficiency, but also have a long service life, more environmentally friendly and safer. During the service life, the comprehensive profit created by aluminum alloy tank trucks is higher than traditional carbon steel tank trucks. The length of commonly used tank truck aluminum plates is generally less than 12.5 meters, the width is less than 2.2 meters, and the common thicknesses are generally 5, 6, 7, and 8mm. A complete tank truck body generally requires 4-6 aluminum plates to be welded.
The tanker body is generally made of 5454 aluminum plate, 5083 aluminum plate, etc. The O temper is softer, and the partition (wave-proof plate) part is made of 5083-O aluminum plate. 5454 aluminum plate is one of Flait Aluminum's advantageous products. The 5454 aluminum plate we produce has skilled craftsmanship, excellent quality, and can adapt to harsh corrosive environments. 5083 Aluminum sheet is a typical rust-proof aluminum and has higher strength, about 20% higher than 5052 aluminum plate.
The magnesium content of 5454 aluminum plate is 2.4-3.0%, and it also contains a small amount of silicon, copper, zinc, manganese and other elements. The tensile strength is greater than 215MPa, which is about 20% higher than the strength of 5052 aluminum plate. Its characteristics are roughly the same as 5154, but in harsh environments, the corrosion resistance of 5454 aluminum plates is better than 5154 aluminum plates. 5454 aluminum plate has excellent ductility and high strength, is usually used in fuel tanks, tanker body, marine facility pipelines, automobile wheels and other fields to reduce the weight of automobiles.
5454 aluminum plate has all tempers including O, H12, H14, etc. In terms of performance, it not only has high strength and high corrosion resistance, but also has good plasticity and good molding processability. 5454 aluminum sheet can be heat treated in tempers such as O, H32, H34, etc., which can improve its strength and hardness. 5454 aluminum alloy has been heat treated in H32 temper, and its hardness can reach 70-1180HB.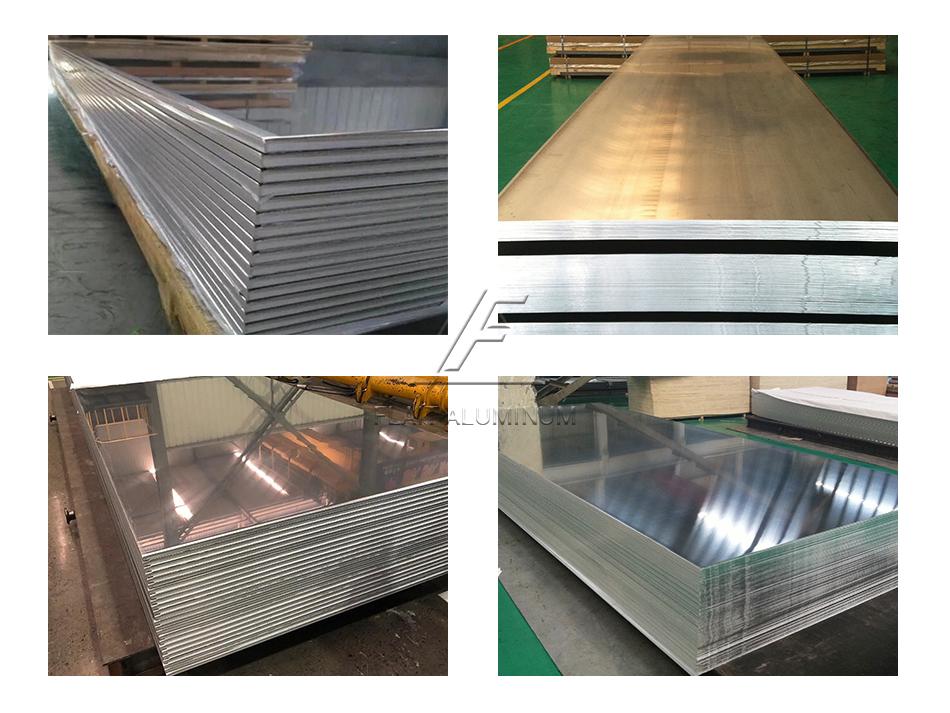 Features of 5454 O/H111/H32 Aluminum Plate for Fuel Tank Truck
The surface of 5454 aluminum plate is not easy to form an oxide layer and has good resistance to corrosion such as sea water and chloride;
5454 aluminum sheet has high tensile strength and yield strength, as well as good toughness and crack resistance;
5454 aluminum sheet has good plasticity, processability and crack resistance.
Specification of 5454 O/H111/H32 Aluminum Plate for Fuel Tank Truck
Alloy
Temper
Thickness (mm)
Width (mm)
Length (mm)
Application
5454
H32, H111
6.00 – 8.00
1500 – 3450
500 – 16000
Tank truck body
O
7.00 / 7.20
Bulkhead
O
5.00 – 6.00
Wash board
Package
Export packaging (protective film, interleaved paper)
Certificate
CCS, DNV, ABS, BV
Standards
GB/T 3880, EN14286, EN485, ASTM B209, or according to customer's special requirements
Chemical Composition of 5454 O/H111/H32 Aluminum Plate for Fuel Tank Truck
| | | | | | | | | | | | |
| --- | --- | --- | --- | --- | --- | --- | --- | --- | --- | --- | --- |
| Alloy | Si | Fe | Cu | Mn | Mg | Cr | Ni | Zn | Ti | Zr | AL |
| 5454 | 0.25 | 0.40 | 0.10 | 0.50-1.00 | 2.40-3.00 | 0.05-0.20 | – | 0.25 | 0.20 | – | Remainder |
Mechanical Properties of 5454 O/H111/H32 Aluminum Plate for Fuel Tank Truck
Alloy
Temper
Tensile strength Rm(Mpa)
Yield strength Rp0.2(MPa)
Elongation A(%)
Minimum Bending Radius of 180 Degree
5454
O/H111
215-285
≥85
≥19
–
H32
250-305
≥180
≥12
–
Quality of Flait of 5454 O/H111/H32 Aluminum Plate for Fuel Tank Truck
Composition and properties: strengthen the selection and quality control of raw materials, implement relevant standards and specifications, strictly inspect and test the compositions and properties of 5454 aluminum sheets.
Specifications: using advanced processing technology and equipment, strengthen size control and adjustment during production process according to your actual needs, including thickness, width, length and other parameters.
Surface quality: the surface of 5454 aluminum plate is smooth and flat, without obvious protrusions and depressions, and no cracks, oxidation, flaws and other obvious defects.
Services: Flait Aluminum has a special quality inspection team, which takes pictures of customers before each shipment and provide inspection reports.
Package and transportation: standard export package, short production lead times, sufficient aluminum sheets in stock.
Original Source: https://www.flait-aluminum.com/Aluminum-Sheet-for-Tank-Truck-Fuel-Tanker.html
Tags: 5454 aluminum plate