Now, automobile lightweighting has become the development direction of the global automobile industry. Aluminum alloy sheets have the advantages of light weight, high strength, good stretchability, and corrosion resistance. The formability and production performance of aluminum sheets are very close to those of steel sheets, so they are very popular in the automobile and auto parts processing industries. As a representative material for automobile lightweighting, aluminum has been chosen by more and more automobile manufacturers.
Aluminum alloy is widely used in body, frame, engine, door, hood, fuel tank, compartment body, etc. It can effectively reduce the overall weight of the vehicle and thereby improve the overall performance. Commonly used alloys for automotive aluminum plates include 5*** series and 6*** series. The main aluminum alloys are: 5182, 5083, 5754, 5052, 5454, 6061, 6063, 6082, etc. Flait Aluminum has long been producing and supplying various aluminum plates and strips required for automobile production. The products have reliable quality, complete models, customizable sizes and reasonable prices. They are an ideal automotive aluminum plate supplier.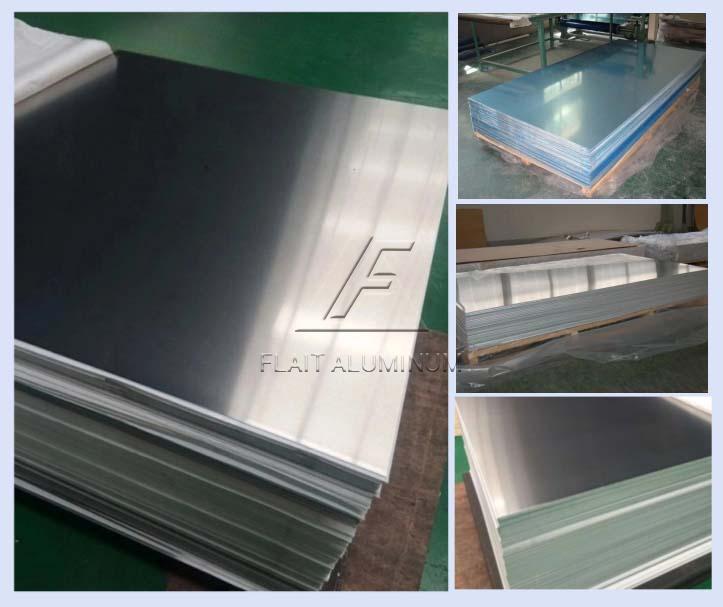 Specificication of automotive aluminum sheet
Alloy

Temper

Thickness (mm)

Width

(mm)

Length

(mm)

Standard

5182

O, H111

0.50 – 3.50

1200 – 2650

500 – 16000

EN/ASTM

5083

H32, H111

4.00 – 8.00

1500 – 2650

2000 – 16000

GB/EN/ASTM

5754

O

1.00 – 8.00

1200 – 2650

500 – 12000

GB/EN/ASTM

5052

O, H32, H26, H34

0.30 – 3.50

1200 – 2650

500 – 12000

GB/EN/ASTM

6061

O, T4, T6, T651

0.30 – 500

100 – 2400

500 – 16000

GB/EN/ASTM

6063

O, T4, T6, T651

0.30 – 500

100 – 2400

500 – 16000

GB/EN/ASTM

6082

O, T4

0.30 – 3.50

100 – 2400

500 – 16000

GB/EN/ASTM

2024

O, T4

0.50 – 3.50

800 – 2400

800 – 5500

GB/EN/ASTM

1050

O

0.30 – 3.50

100 – 2400

500 – 16000

GB/EN/ASTM

1070

O

0.30 – 3.50

100 – 2400

500 – 16000

GB/EN/ASTM

1100

O

0.30 – 3.50

100 – 2400

500 – 16000

GB/EN/ASTM

3003

F,O,H12,H14, H16, H18,H22,etc.

0.20 – 500

20 – 2650

500 – 16000

GB/EN/ASTM
Application of automotive aluminum sheet
1.5182 aluminum plate: Flait Aluminum 5182 aluminum plate has good stamping effect and no cracks after stamping. Mainly used in car doors, car hoods, car front and rear fenders, etc.
2.5083 aluminum plate: can be used for car roofs, car bottom guards, car gas tanks, etc.
3.5754/5052 aluminum plate: It has excellent corrosion resistance and excellent processability, and is the preferred material for manufacturing automobile fuel tanks.
4.5454 aluminum plate: 5454 aluminum plate has high strength, high corrosion resistance, good plasticity and good formability. It is often used in engine manufacturing.
5.6061 aluminum plate: 6061 aluminum thick plate is the preferred material for automobile wheels. High strength and light weight are its salient features. At the same time, 6061 aluminum plates can also be used to manufacture vehicle frames, seat frames, anti-collision beams, etc.
6.6082 aluminum plate: commonly used as body frame and seat frame.
7.1050/1060 aluminum foil: used for automobile heat shields. It is non-toxic, tasteless, bright and easy to process.
8.1060 aluminum coil: good electrical conductivity, fast heat dissipation, good weldability, often used as battery soft connection.
9.3003 aluminum coil: commonly used as power battery casing. 3003+4343 brazed composite plate is a good choice for manufacturing battery water cooling plates and other automotive heat dissipation components.
Advantage of automotive aluminum sheet
The weight reduction and energy saving effect is obvious: the density of aluminum is only 1/3 of steel, it has good thermal conductivity, and its cutting processability is 4.5 times higher than that of iron. Compared with traditional cars, aluminum cars have significant energy saving and emission reduction effects.
Excellent corrosion resistance: The oxide film naturally formed on the surface of the aluminum plate has good corrosion resistance. The use of aluminum in automobile parts is not easy to rust, which greatly improves the service life.
Improve comfort and safety: Aluminum alloy cars reduce the weight of the car without reducing the car's capacity. The center of gravity of the car body is lowered, making the car's driving smoother and more comfortable. Because aluminum has good energy-absorbing properties, it has obvious advantages in terms of crash safety. The deformation zone at the front of the car creates wrinkles during a collision and can absorb a large amount of impact force, thereby protecting the driver and passengers behind.
Easy to recycle: In the cycle of aluminum materials – aluminum products – use – recycling recycled aluminum ingots – reprocessing into aluminum materials, the loss of aluminum is only about 5%, and its regeneration performance is higher than any commonly used metal.
Why choose Flait Aluminum
Flait Aluminum has advanced production equipment, ensuring excellent quality of automobile aluminum plates.
Flait Aluminum has a special quality inspection team, which takes pictures of customers before each shipment and makes inspection reports.
Short production lead times, sufficient automobile aluminum sheets in stock.
Customized production according to different needs of customers.
Original Source:https://www.flait-aluminum.com/Automobile-Aluminum-Sheet-Plate.html
Tags:1060 aluminum coil,3003 aluminum coil,1060 aluminum foil,6082 aluminum plate,6061 aluminum plate,5454 aluminum plate,5052 aluminum plate,5083 aluminum plate,5182 aluminum plate