Powder tank truck can be used to transport fly ash, cement, lime powder, ore powder, granular alkali and other powder dry materials with a particle diameter of no more than 0.1mm. It is widely used in industry, construction, agriculture, and other fields. The tank body of the powder tank truck can be made of 5083 aluminum plate, which can reduce the weight of the vehicle while ensuring safety. 5083 Aluminum plate belongs to the Al-Mg-Si alloy, the main alloy element of 5083 is magnesium has a wide range of uses, good corrosion resistance, excellent weldability, good cold workability, good formability and medium strength.
The length of aluminum plates commonly used in tank trucks on the market is generally within 12.5 meters, the width is less than 2.2 meters, and the thickness is generally 5, 6, 7, or 8 mm. A complete tank truck body generally requires 4-6 aluminum plates to be welded, the tanker body is made of 5083-H111 aluminum plate, and the lids on both sides are made of 5083-O aluminum plate. The temper O is softer, and the lid needs to be bent, and the partition part is also made of 5083-O aluminum plate.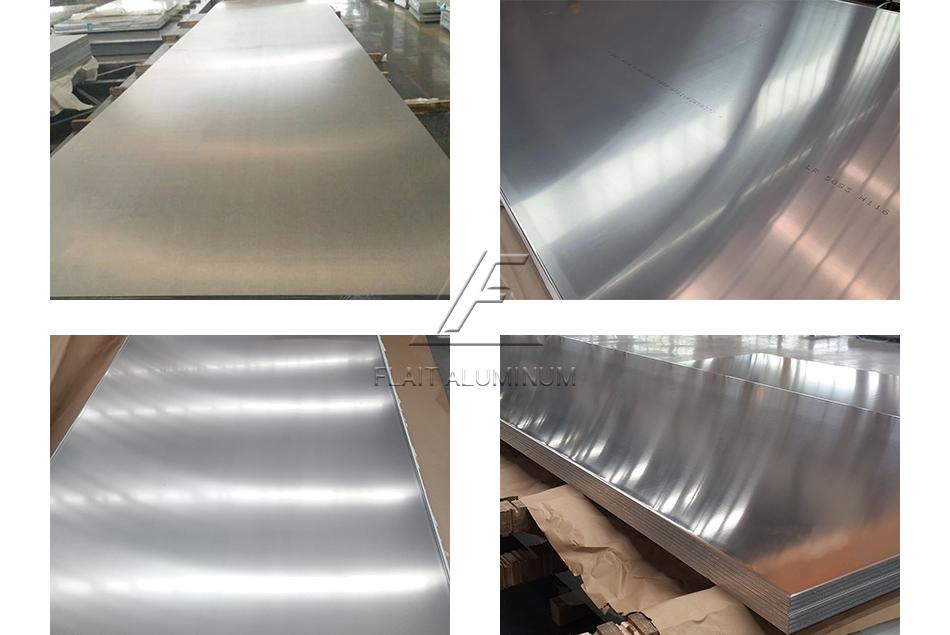 5083 Aluminum Sheet Plate for Powder Tank Truck Body
In the temperature range of 135°C, the mechanical properties of 5083-O/H111 aluminum plate are better than 5454 – O/H111. The temperature of the cement after grinding must not exceed 135°C. Therefore, when the temperature of transported bulk materials, such as cement, etc., is not higher than 135°C, the tank body of the aluminum powder tank semi-trailer can use 5083-O/H111 aluminum sheet plate.
5083 Aluminum Sheet Plate for Powder Tank Truck Frame
The frame mostly uses extruded aluminum profiles, such as L-shaped beams, T-shaped beams, triangular beams and other wing profiles made of 6061aluminum alloy. For irregularly shaped local webs and other structural parts, 5083 aluminum plates or 5182 aluminum plates can be used.
Specification of 5083 Aluminum Sheet Plate for Powder Tank Trucks
Alloy
Temper
Thickness (mm)
Width (mm)
Length (mm)
5083
O, H111, H112, H114, H116, H32, H321, etc.
4.00 – 8.00
1500 – 3450
500 – 16000
Common size:1500-3450mm*500-16000mm; Or customized size
Stadards: GB/T3880,EN14286,EN485,ASTM B209
Packaging: export standard
Sample: A4 size free
Advantages of 5083 aluminum sheet plate for powder tank truck
1. Overall weight reduction
The density of aluminum alloy is only about 1/3 of steel. The application of aluminum alloy materials on powder tank semi-trailers can greatly reduce the weight of the powder tank semi-trailer. 
2. High economic benefits
In order to achieve better economic benefits, vehicle light weighting can effectively increase loading capacity. 
3. Corrosion resistance
5083 Aluminum sheet plate has good corrosion resistance. Therefore, the aluminum alloy structural parts of the powder tank semi-trailer do not need to be coated with anti-rust paint on the surface. The powder tank semi-trailer with aluminum alloy structure not only reduces the cost of paint coating in the factory, but also reduces the physical harm of paint spraying to operating employees and the pollution to the environment.
4. Energy saving and emission reduction
According to a relevant research report by the European Aluminum Association, every 100kg of vehicle weight can reduce fuel consumption by 0.6L per 100 kilometers, and every 1L of fuel saved can reduce CO2 emissions by 2.3kg. If an aluminum alloy horizontal powder tank semi-trailer loses 1.5t in weight and travels 120,000 kilometers per year, it can save 5,400L of fuel per year and reduce CO2 emissions by 14.42t based on half the no-load mileage.
5. High recycling value
Due to the high corrosion resistance of aluminum alloys, there is no major damage to the vehicle body, aluminum alloys have higher recycling value than steel.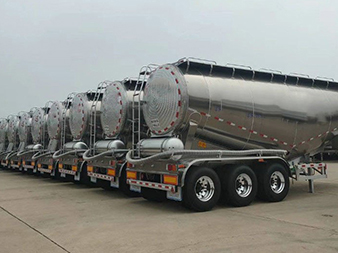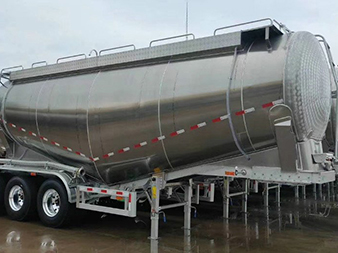 Original Source: https://www.flait-aluminum.com/Aluminum-Sheet-for-Tank-Truck-Fuel-Tanker.html