3003 aluminum coil is a representative product of 3 series aluminum-manganese alloy, also known as anti-rust aluminum coil and thermal insulation aluminum coil. It has low density, light weight and beautiful appearance; aluminum is not easily oxidized in the air and has a longer service life than other materials. It is mainly used in pipes, building roofs and walls as insulation materials.
Metal building insulation membranes play a very important role in the construction industry. Compared with traditional insulation materials, building insulation aluminum panels are not easy to loosen, avoiding the risk of falling off, and can be tightly bonded with external building decoration materials. Coatings also protect buildings from erosion and corrosion from the natural environment.
As a new type of thermal insulation material, 3003 aluminum coil is often used as metal building insulation. Due to the presence of manganese element, this material has excellent anti-rust and anti-corrosion properties, and its corrosion resistance is stronger than Series 1 pure aluminum, such as water, atmosphere, gasoline, inorganic salts, food, etc. Not only that, they are also resistant to acrylic corrosion and are suitable for a variety of special environments. At the same time, 3003 aluminum coils can be color-coated with various colors, beautiful shapes and strong decorative power.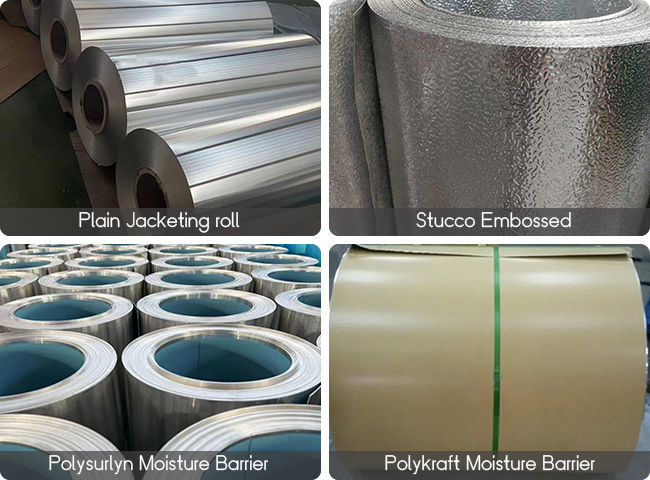 The 3003 insulated sheathed aluminum coils produced by Flait Aluminum have a beautiful and smooth appearance, no oil stains, no color difference, uniform thickness, and flat sheets without waves. Aluminum coil products with surface types such as polished, smooth, and plaster embossed can be provided. It has high smoothness and uniform color coating, which is very suitable for the needs of building insulation.
Advantage of 3003 aluminum coil for building insulation
Low density and light weight, reducing building load-bearing pressure.
It has strong corrosion resistance, is suitable for use in outdoor environments, and has a service life of more than 10 years.
The strength is higher than Series 1 pure aluminum, and it has good processability and formability to meet various processing requirements.
It is non-flammable, has excellent fire resistance and is safe to use.
Various colors, beautiful shapes and strong decorative power.
It can be recycled and has high comprehensive utilization value.
Specification of 3003 aluminum coil for building insulation
A

lloy

3003

T

emper

H14, H16

,H24,H26

T

hickness

0.40

mm

-1.

5

0mm

W

idth

914mm, 1000mm, 1200mm, 1219mm, etc.

L

ength

50′ (15 meters), 100′ (30 meters), 200′ (60 meters), 300′ (90 meters), Coil (specify lengths), Flat Sheets (cut to length), Cut & Rolled (to specific lengths)

Inner diameter

75mm, 150mm, 305mm, 405mm, 505mm with or without paper core

Surface treatment

Mill finish

,

smooth,

 

stucco

 

embossed, corrugated

Moisture barrier

P

olysurlyn, composite kraft paper

Quality standard

ASTM B209

,

ISO9001, GB/T3880

Qty.

Have ready stock for most common thickness roll small quantity order are acceptable.
Why choose Fliat 3003 aluminum coil for building insulation? 
1.Selection of raw materials. Choose reliable large-scale suppliers, purchase key raw materials, and control the quality of building insulation aluminum coils from the source. 
2.Process advantages. More than 15 years of rich experience, mature technology and high level of craftsmanship. 
3.Advanced equipment. 3300mm wide "1+1" hot rolling production line; many large equipment such as straightening, cutting, etc. 
4.Perfect packaging. The packaging of 3003 aluminum coils should be moisture-proof and rain-proof to ensure that the surface of the aluminum coils is intact and without scratches. It can be cut and packaged according to the size required by the customer. In order to facilitate customer construction and use, please inform us in advance. 
5.Competitive price. The origin of raw materials, large-scale production, and direct supply from manufacturers make the products cost-effective.
Original Source:https://www.flait-aluminum.com/Aluminum-Jacketing-Coil-Roll.html
Tags:3003 aluminum coil