3003 Aluminum jacketing insulating coil roll is the most commonly used among all aluminum alloys. The Mn element content of 3003 aluminum coil is higher than 1060, accounting for about 1%. The anti-rust performance of 3003 aluminum jacketing insulation roll is higher than 1060. The price of 3003 aluminum jacketing insulation is higher than 1060 too.
3003 Aluminum jacket coil with polysurlyn is our best-selling star product, mainly used in anti-corrosion insulation projects (insulating pipes, storage tanks and containers). Polysuryn film has high strength, high tear strength and blue/pink color. It is an excellent moisture barrier. The polysuryn film and the aluminum coil are bonded together using a hot pressing process. The processed polysuryn film is soaked in water for 24 hours, then taken out and dried, the quality is the same as before soaking, and the bond is very strong. After being coated, the aluminum coil has better heat insulation and corrosion resistance. In addition, we can also produce 3003 embossed aluminum jacketing insulation aluminum coils with polysurlyn. The aluminum coil is first hot-coated with polysurlyn film, and then embossed. 3003 embossed aluminum jacketing insulation aluminum coils with polysurlyn strength and anti-corrosion properties are further enhanced.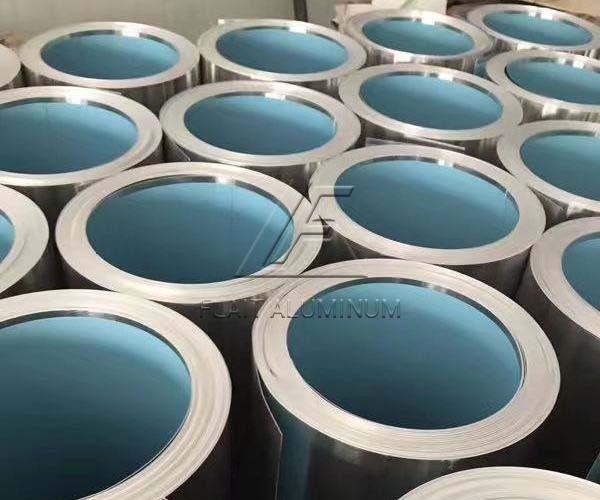 Why is the surface of aluminum coil covered with polysurlyn film?
3003 Aluminum coil has excellent anti-corrosion performance. After being compounded with a layer of polysurlyn film, the service life of the aluminum coil is greatly enhanced. It also plays a certain role in adsorbing moisture inside the pipeline. 3003 Aluminum jacket coil with polysurlyn film has high-strength, good corrosion-resistant, has a service life of up to 7 years without any maintenance.
What is the function of moisture-proof layer (polysurlyn film)?
Polysurlyn consists of 50-200um thick polyethylene or DuPont Surlyn, bonded to the inner surface by heat pressure to provide a highly effective moisture barrier. Polysurlyn vapor barriers are hot laminated at the factory to the interior surfaces of all types of metal sheathing to provide mechanical insulation, helping to prevent pitting, gaps and electrical conductivity on the interior surfaces of metal sheathing and underlying insulated pipes, tanks or equipment. We have two types of moisture barrier: PolySurlyn and Kraft.
Why 3003 aluminum jacket do stucco embossed?
Improve its strength, ductility and lifespan.
Stucco embossed finishes hide small imperfections and scratches caused by physical damage during or after installation and reduce sunlight reflection. It is also known as the "orange peel" pattern.
What are the advantages of 3003 aluminum jacket with polysurlyn?
Simple, low cost, and can effectively resist corrosion of metal sheaths and pipelines;
Provide a barrier against gaps or pitting corrosion on the surface of the inner sheath in hot and cold pipeline/tank applications;
Provide a barrier to galvanic corrosion of jackets or pipes in thermal applications;
Compared with kraft paper, the water absorption rate is extremely small;
It will not deteriorate, discolor or break when exposed to water;
Provide wear resistance during installation;
Long-term durability and resistance to a variety of environmental pollutants.
Specification of 3003 aluminum jacket with polysurlyn
| | |
| --- | --- |
| Alloy | 3003 |
| Temper | H14, H16,H24 |
| Thickness | 0.40-1.20mm |
| Width | 914mm, 1000mm, 1200mm, 1219mm, etc. |
| Length | 50′ (15 meters), 100′ (30 meters), 200′ (60 meters), 300′ (90 meters), Coil (specify lengths), Flat Sheets (cut to length), Cut & Rolled (to specific lengths) |
| Inner diameter | 75mm, 150mm, 305mm, 405mm, 505mm with or without paper core |
| Surface treatment | Mill finish, smooth/plain, stuccoembossed, corrugated |
| Moisture barrier | Polysurlyn, composite kraft paper |
| Kraft paper thickness | About 0.14-0.16mm |
| Polysurlyn thickness | About 0.076mm (3mil) |
| Quality standard | ASTM B209,ISO9001, GB/T3880 |
| Qty. | Have ready stock for most common thickness roll small quantity order are acceptable. |
The manufacturing process of 3003 aluminum jacket with polysurlyn: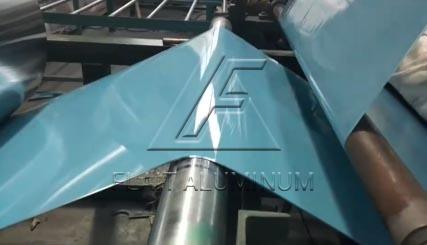 Equipment preheating;
Put the aluminum coil into the preheating equipment for automatic edge trimming, hot pressing lamination, and online shaping;
Coat Polysurlyn coating on the surface of ordinary aluminum coils or colored aluminum coils;
Bond the Polysurlyn coating to the aluminum coil at a temperature of 140°C;
Automatic cutting and shearing after cooling;
During the processing, the aluminum coil must be degreased, the surface must be smooth, and the difference between the same plates must be small. The weight of each aluminum coil with moisture-proof layer can be 2.5-3 tons. Weights are also available in small rolls. All packaging is suitable for sea shipping.
Original Source:https://www.flait-aluminum.com/Aluminum-Jacketing-Coil-Roll.html
Tags:3003 aluminum coil