Flait Aluminum is a well-known manufacturer of anodized aluminum sheet coils and has long been supplying various types of anodized aluminum sheet products. The main products of anodized aluminum sheet coils we produce include 1xxx series, 3xxx series, 5xxx series, and 6xxx series aluminum alloy plates.
Anodizing is a commonly used aluminum plate oxidation method. The aluminum plate is placed in the corresponding electrolyte as an anode, and electrolysis is performed under the action of external current. After anodizing, a thin aluminum oxide film will be formed on the surface of the aluminum plate, which not only improves the hardness and wear resistance of the aluminum plate, but also enhances corrosion resistance. More importantly, alumina plates can be colored into various colors and can be used in electronic products to enrich product colors and meet people's aesthetic requirements.
Flait Aluminum is an alumina plate manufacturer that can provide customers with 1050, 1060, 3003, 3005, 5005, 5052 and other alumina plates, which are widely used in rail transit, automobiles, shipping, electronic appliances, construction and engineering molds and other fields. The oxidation coloring effect of the aluminum plates produced by Flait Aluminum is much higher than that of its peers, and it provides oxidation materials for many well-known air conditioner manufacturers, laptops, mobile phones, automobiles and other manufacturers. You can buy with confidence!
Specification of Anodized aluminum sheet coil

Series

1***

3***

5***

6***

Alloy

1050,1060,1070,1100
3003,3004,3005,3105
5005,5052,5083,5086,5251
6061,6063

Temper

O,H12,H22,H14,H24,H16,H26,H18,H32,H36,H38,H116,H112,H111,H321,T6,T651,etc.

Thickness(mm)

0.2-3.0,or according to your requirements.

Width(mm)

30-2650

Length(mm)

As customer's requirements

Surface

Mill, Bright, Polished, Hairline, Stucco, Embossed, Etching, etc.

Anodized aluminum film

Indoor use 3-10μm; outdoor use 15-25μm; or as customer's request

Protective film

Covered with PE film

Application

Mechanical parts, aircraft and auto parts, precision instruments and radio equipment, architectural decoration, machine shells, lighting fixtures, consumer electronics, handicrafts, household appliances, interior decoration, signs, furniture, automobile decoration.
Reasons to choose Flait Aluminum anodized aluminum sheet
Product quality: Flait Aluminum selects raw materials in accordance with international and national standards, and strictly inspects the composition and performance of each batch of raw materials to ensure stable and reliable product quality.
Specifications: Using advanced processing technology and equipment, we will strengthen dimensional control and adjustment during the production process according to your actual needs, including thickness, width, length and other parameters. We also offer custom cut-to-length anodized aluminum sheet services for our clients who require or prefer leveled sheeted material.
Surface quality: The surface of the anodized aluminum plate is smooth and flat, with no obvious bulges and depressions, and no obvious defects such as cracks, oxidation, flaws, etc.
Service: Flait Aluminum has a dedicated quality inspection team that takes photos and provides inspection reports to customers before each shipment.
Packaging and transportation: standard export packaging, short production cycle, and sufficient aluminum plate inventory.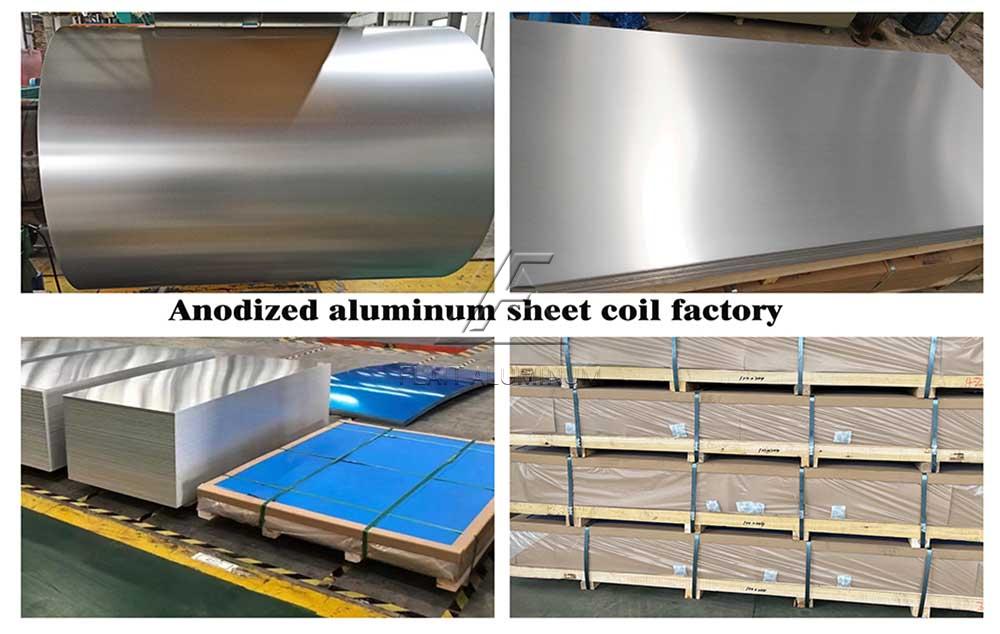 Original Source:https://www.flait-aluminum.com/Anodized-Aluminum-Sheet-Coil.html