According to research, about 50% of wine bottles on the market use anti-theft caps. Aluminum bottle caps have good sealing, anti-theft opening and safety, are widely used for beer bottle caps. 8011 aluminum foil used for beer bottle caps is non-toxic, tasteless, safe and hygienic; the surface oxide film of aluminum can be oxidized, it will be stronger, and the bottle cap made of 8011 aluminum foil will seal the wine more tightly to ensure the quality of the wine.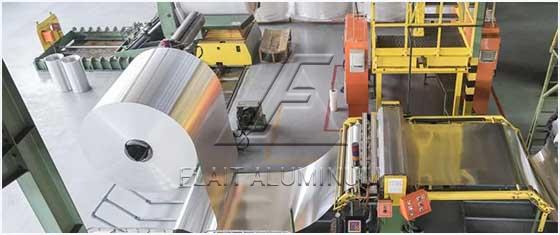 8011 bottle cap aluminum plate is light in weight, has good barrier properties and formability, good deep drawing performance, low ear-making rate, and certain strength after work hardening. Usually 8011 aluminum plate is used to make ROPP caps, PP caps, rolled anti-theft caps, anti-theft caps, aluminum bottle caps, aluminum screw caps, tear-off caps, and flip caps. Flait Aluminum is a manufacturer of aluminum foil raw materials for anti-theft wine caps. 8011 aluminum foil for bottle caps has the advantages of food grade, clean oil removal, fewer pinholes, and good product shape.
Advantage of 8011 aluminum foil for beer bottle caps
The aluminum plate for beer bottle caps is made of high-quality aluminum. It is hygienic, will not rust, and is easy to open without the need for auxiliary tools. After opening, the bottle cap is destructive and can effectively prevent theft.
The aluminum plate used for wine bottle caps has the advantages of good buffering, shock resistance, heat insulation, moisture resistance, chemical corrosion resistance, etc. It is also non-toxic, non-absorbent, does not cause dust or peeling, and has very good sealing performance.
The finished aluminum cap made of aluminum plate for wine bottle caps can be made of stainless steel pellets according to customer requirements. It is resistant to high temperature, boiling, alcohol, etc. The pattern design can be colored.
The aluminum foil for wine bottle caps reaches food grade, cleanly removes oil, has fewer pinholes, and has good product shape.
After quality inspection in each process, its chemical composition, mechanical properties and ear production rate are stable, which can meet the needs of different customers for products.
Specifications of 8011 aluminum foil for beer bottle caps
| | | | | | | |
| --- | --- | --- | --- | --- | --- | --- |
| Alloy | Temper | Thickness(mm) | Width(mm) | Elongation (%) | Tensile strength | Thickness tolerance |
| 8011 aluminum foil for beer bottle caps | O | 0.01-0.0115 | >300 | 2-2.5 | 80-90N/mm2 | ≤5 |
Alloy
Chemical composition % is not greater than
AL
Si
Fe
Cu
Mn
Mg
Cr
Zn
Ti
Single
Total
8011
Balance
0.40-0.8
0.50-1.0
0.1
0.1
0.1
0.1
0.1
0.05
0.05
0.15
Original Source: https://www.flait-aluminum.com/Aluminum-Sheet-Coil-for-Cap-Closure.html
Tags:8011 aluminum foil,8011 aluminum plate,aluminum plate,aluminum foil