8011 aluminum foil is added with Al-Fe-Si elements. Its performance is better than pure aluminum foil. It has anti-leakage, freshness preservation, anti-counterfeiting, anti-theft, moisture-proof, light-shielding and high barrier capabilities, good formability, certain strength, beautiful surface and excellent processability, and is widely used in the refrigeration industry, such as air conditioning filters/fins, condensers, refrigeration equipment, radiator fins and heat exchangers. Aluminum foil fin heat exchangers mostly use 8011 aluminum alloy. Because of its outstanding performance advantages and high cost performance, 8011 air conditioning aluminum foil is very popular among market users. The commonly used tempers are 8011-O hydrophilic aluminum foil and 8011-H22 hydrophilic aluminum foil, with a thickness of 0.08-0.20mm. 8011 Hydrophilic aluminum foil can be surface-coated, usually blue and gold/golden.
We have two types of 8011 air conditioning aluminum foil, one is hydrophilic aluminum foil and the other is hydrophobic aluminum foil. Hydrophilic aluminum foil is a hydrophilic treatment of aluminum foil. Through special processing, a hydrophilic layer is coated on the surface. The condensed water will spread quickly on the hydrophilic aluminum foil and will not condense into water droplets, thereby increasing heat exchange area, speed up the cooling and heating speed, and effectively avoid the noise caused by condensed water blocking the air flow. Hydrophilic aluminum foil is the main raw material for heat exchangers in household air conditioners and has an impact on the efficiency of air conditioners. If the raw material of the heat exchanger is hydrophilic aluminum foil, the refrigeration efficiency can be increased by 5%. It also has anti-corrosion and antifungal functions and will not cause the accumulation of water droplets to block the heat exchange.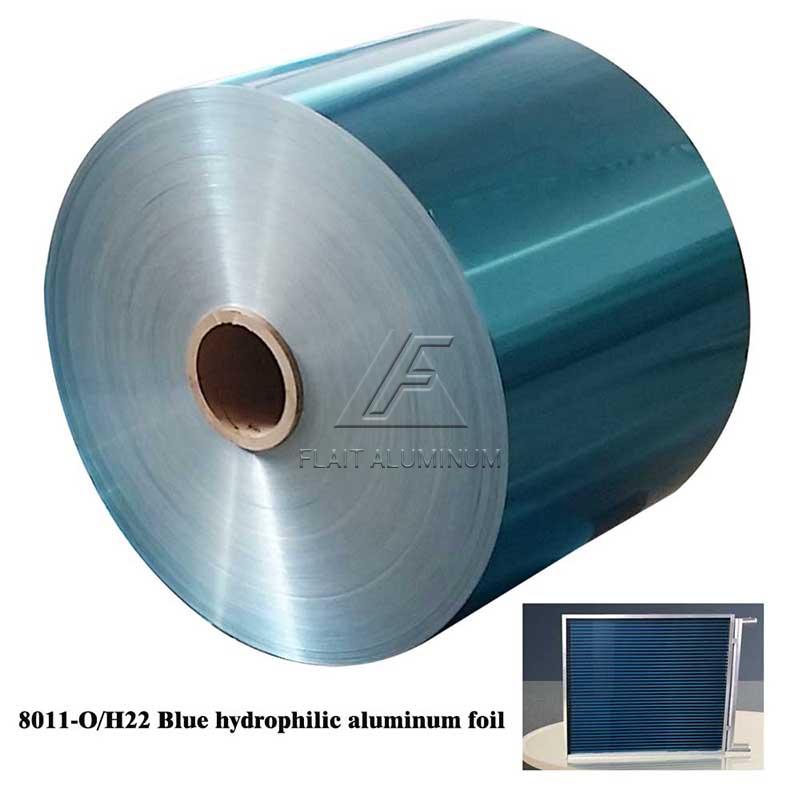 Why choose Flait Aluminum 8011-O/H22 blue hydrophilic aluminum foil finstock for air conditioner?
Good thermal conductivity, odorless, environmentally friendly and competitive price;
Low density, easy processing and stamping;
High strength, excellent hydrophilicity and corrosion resistance;
Good formability and no wear on the mold;
Good stamping oil resistance, solvent resistance and heat resistance;
The condensed water on the accumulation surface of the heat exchange fins is evenly distributed on the surface, and the formation of water droplets will not cause accumulation and blockage between the heat exchange fins, affecting the heat exchange conditions, thereby increasing the heat exchange rate by 5%;
Since the water has no beads, the noise caused by vibration is also reduced accordingly;
It can prevent the oxidized powder from the air conditioner from being blown into the room and have adverse effects on the human body, and meets environmental protection requirements;
Not easy to deform under long-term cold or hot conditions, long service life;
Short lead time, 24 horas services, FREE SAMPLE.
Specification of 8011-O/H22 blue hydrophilic aluminum foil finstock for air conditioner
Alloy

8011

Temper

O/

HO

,H22,H24,H26

ID

75MM, 150MM, 300MM, 400MM, 500MM

OD

300 – 1400mm

Sleeve Material

Aluminum, carbon, steel

Thickness (mm)

0.08-0.20mm

Width (mm)

100-1250mm

Surface

B

lue/

G

olden/

B

are (Pure)

Application

Air conditioner condenser, heat exchanger and evaporator etc.

Payment

30% deposit + T/T / L/C at sight

Delivery Period

35 days after receiving the deposit

Package

W

ooden pallets, sea-worthy, with fumigation

Standard

EN,ASTM,DIN,GB/T-3198

Shipment Port

Any port in China

Sample
Available
Chemical composition of 8011-O/H22 blue hydrophilic aluminum foil finstock for air conditioner

Alloy

Si

Fe

Cu

Mn

Mg

Cr

Zn

Ti

Others

Al

Single

Total

8011

0

.5-0.9

0

.6-1.0

0.1
0.2
0.05
0.05
0.1
0.08
0.05
0.15
Remainder
Alloy

Temper

Mechanical Performance under room temperature

Tensile Strength (

σ

b, Mpa)

8011

O

6

0-110

H

22

9

0-150

H

24

1

20-170

H

26

1

40-190

H

18

≥

1

50

H

19

≥160
Original Source:https://www.flait-aluminum.com/Hydrophilic-Aluminum-Foil-For-Air-Conditioner-Heat-Exchanger.html
Tags:8011 aluminum foil