6061 aluminum sheet plate belongs to Al-Mg-Si alloy. The main alloy elements are magnesium and silicon. It has medium strength and good oxidation effect. In particular, it has no tendency to stress corrosion cracking, has excellent weldability, good corrosion resistance and cold workability, and is a promising alloy with a wide range of applications.
With the rapid development of the automobile industry, lightweight, more emphasis on safety, environmental protection, and comfort will become the development trend of future automobile seat design. The car seat uses 6061 aluminum alloy material to make the frame. Coupled with the design of the seat structure, the seat can withstand a certain load and provide safe and effective support to the driver and passengers without reducing the car's capacity. It reduces the weight of the car, lowers the center of gravity of the car body, and makes the car more stable and comfortable to drive.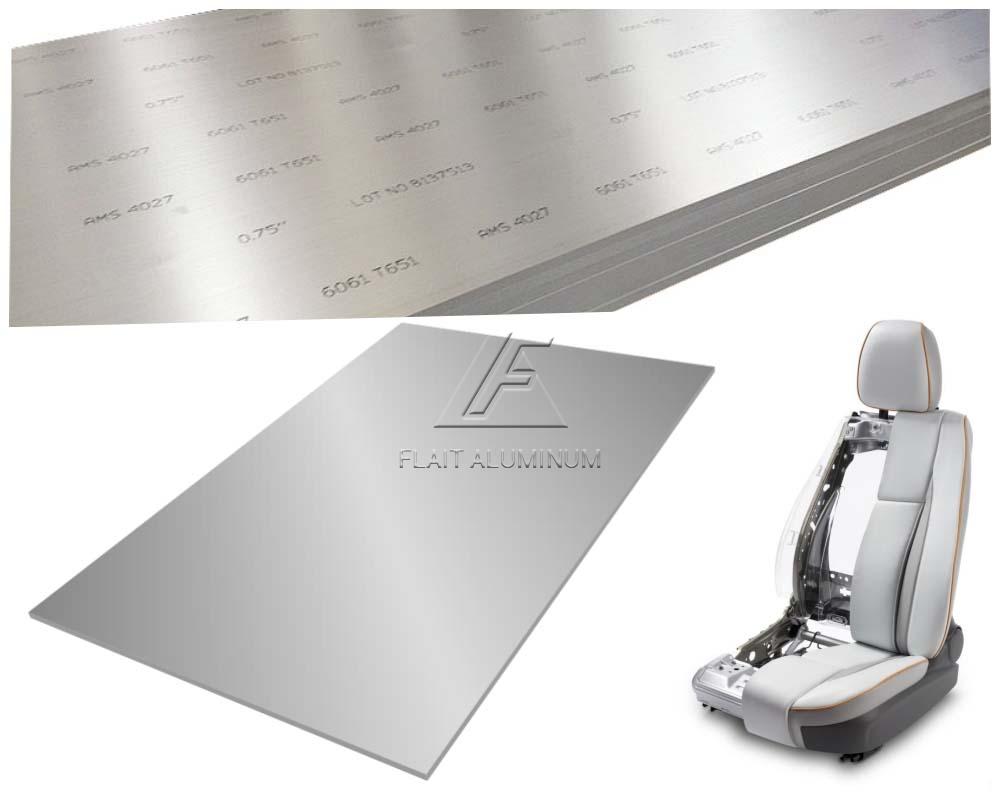 Specification of 6061 

a

luminum 

s

heet 

p

late

Alloy
Temper
Thickness (mm)
Width(mm)
Length(mm)
Standard
6061

O, T4, T6, T651

0.30 – 500

100 – 2400

500 – 16000

GB/EN/ASTM

Application

Mobile phone card slots, mobile phone cases, molds, automobiles, precision machining,

etc.
Chemical Composition of 

6061 

a

luminum 

s

heet 

p

late

Alloy

Si

Fe

Cu

Mn

Mg

Cr

Zn

Ti

Al

6061

0.40-0.80

0.7

0.10-0.40

0.15

0.80-1.20

0.04-0.35

0.25
0.15
Remainder
Mechanical properties

 

of 

6061 

a

luminum 

s

heet 

p

late

Alloy

Temper

Tensile strength (MPA)

Yield strength (MPA)

Elongation(%)

6061

T4

225
152
23

T6

345
190
13

T651

289
242
10
Advantages of 6061 aluminum sheet plate for automotive seat frame
6061 aluminum plate has weldability, excellent brazing performance, good effect of gas welding, arc welding, contact spot welding and wire welding.
6061 aluminum plate has strong corrosion resistance and no tendency of stress corrosion cracking.
The surface of 6061 aluminum plate has the same color and luster after anodic oxidation treatment, and the appearance is beautiful.
The surface of the 6061 aluminum plate has no peeling, air bubbles, surface roughness and local mechanical damage, and the surface of the aluminum plate has no defects.
Packaging of 6061 aluminum sheet plate for automotive seat frame
We will pad paper or cover protective film on all aluminum plate products to ensure that the surface of the aluminum plate is perfect without scratches, and wrap it with plastic or kraft paper for waterproof and moisture-proof (each package has a moisture-proof desiccant).
Use wooden pallets with fumigation marks and reinforce them with steel belts to avoid collisions during transportation and ensure that the shape of the aluminum plate remains unchanged;
Pack according to customers' requirements.
Price of 6061 aluminum sheet plate for automotive seat frame
The price of 6061 aluminum plate = aluminum ingot price + processing fee.
Note: 6061 aluminum plate has different tempers and specifications, the quotations of each aluminum plate manufacturer is also different. For detailed quotation, free online consultation is available, we are very happy to provide you with support and help!
Original Source: https://www.flait-aluminum.com/Automobile-Aluminum-Sheet-Plate.html