Introduction of 5754-O aluminum sheet for car body
5754 aluminum plate is a typical alloy in the Al-Mg series alloy, which has the characteristics of medium strength, good corrosion resistance, weldability and easy processing and forming. 5754 aluminum alloy sheets in different heat treatment states are the main materials used in the automobile manufacturing industry (car doors, molds, seals) and canning industry. 5754-O aluminum plate has high plasticity, easy to punch, bend and form, very suitable for punching door linings and body panels.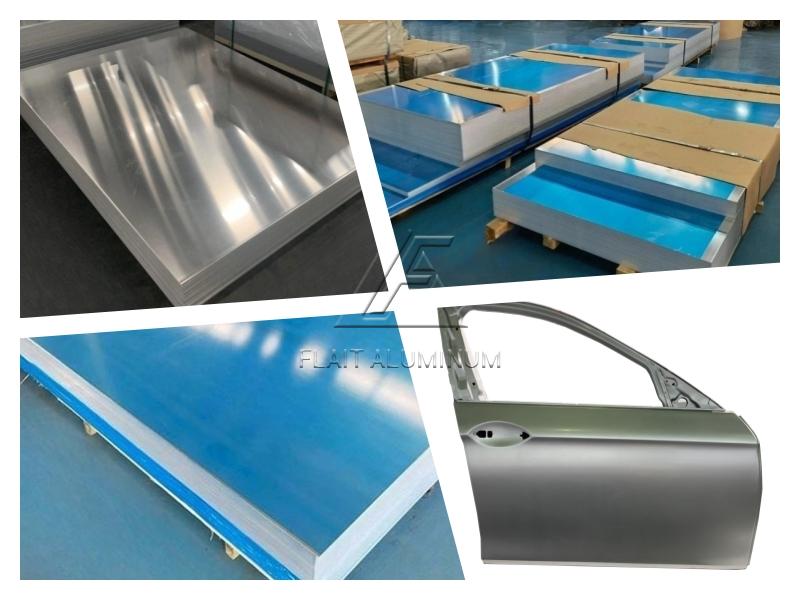 Specifications of 5754-O aluminum sheet for car body
Alloy

5754 aluminum plate

Temper

O

Thickness(mm)

1.00 – 8.00

Width(mm)

1200 – 2650

Length(mm)

500 – 12000

Standard

GB/T 3880, EN14286, EN485, ASTM

B209
| | | | | | | | | | |
| --- | --- | --- | --- | --- | --- | --- | --- | --- | --- |
| Alloy | Si | Fe | Cu | Mn | Mg | Cr | Zn | Ti | Al |
| 5754 | 0.4 | 0.4 | 0.1 | 0.5 | 2.60-3.60 | 0.3 | 0.2 | 0.15 | Remainder |
Advantages of 5754-O aluminum sheet for car body
Light weight: 5754 O aluminum plate has a lower density than traditional steel materials, which enables the body structure to reduce the weight of the vehicle while maintaining stability and safety, thereby improving fuel efficiency and driving performance.
Corrosion resistance: 5754 O aluminum sheet has good corrosion resistance, which can reduce the body damage and life reduction caused by corrosion.
Plasticity: The 5754 aluminum alloy in the O state has high plasticity during processing, and is easy to perform complex processing such as stamping, bending and forming, which is conducive to the production of complex-shaped body parts.
Cold stamping performance: Aluminum alloy has good cold stamping performance at room temperature, which means that body parts can be processed by cold stamping without complicated heat treatment process.
Recyclable: Aluminum alloy is a recyclable material that can contribute to the sustainable development of the automobile manufacturing industry. Discarded aluminum body parts can be recycled and reused to reduce waste of resources and environmental pollution.
Application of 5754-O aluminum sheet for car body
In addition to automobile body manufacturing, 5754-O aluminum sheet can also be used to manufacture ship hulls and structural components, train carriages, shells and body structures, and it is also widely used in architectural decoration and electronic products.
Original Source: https://www.flait-aluminum.com/Automobile-Aluminum-Sheet-Plate.html
Tags: 5754 aluminum sheet