The raw material used to make the tank body is 5 series alloy aluminum plate, also called aluminum-magnesium alloy plate. Magnesium is the main alloying element, and the magnesium content is 3-5%. The different magnesium content determines the performance and use of the 5 series different aluminum alloy plate. The main alloys of aluminum-magnesium plate are: 5083, 5052, 5005, 5754, 5182, 5252, 5254, 5356, 5454, 5456, 5457, 5652, 5657 and so on. The production of the tank body of the tanker has high requirements on the aluminum plate and the processing technology. For example: good corrosion resistance, processing performance, can be used for bending, stamping, stretching and other processes, strong pressure resistance, etc. These requirements are in line with the features of the 5 series aluminum-magnesium alloy plate.
There are so many alloys of 5 series aluminum plates, why choose 5083 aluminum plates for tanker body?
Because the magnesium content of 5083 aluminum plate is higher than other 5 series aluminum alloys plates, and the hardness is also stronger, belongs to the high-hardness aluminum-magnesium alloy plate. The magnesium (Mg) content of 5083 aluminum plate can reach between 4.0% and 4.9%, usually, the middle value is 4.5% in the production process, so 5083 aluminum plate is also called Almg4.5 aluminum plate. 5083 aluminum plate sheet has low density, high tensile strength and high elongation; good formability, high strength, good corrosion resistance and weldability, suitable for oxidation deep processing. The tank body and wave shields is usually made of 5083-H111 aluminum plate; 5083-O aluminum plate sheet is softer than 5083-H111, so, the tank lid, bulkhead and the tank head of the tank cylinder is made of 5083-O aluminum plate sheet, because 5083-O aluminum sheet is relatively soft and suitable for bending. In addition, at the temperature within 135℃, the mechanical properties of 5083-O/H111 Performance is better than 5454-O/H111. Therefore, according to the "Cement Quality Management Regulations", when the temperature of the bulk material to be transported is not higher than 135°C, such as cement, the aluminum alloy tanker/powder tanker can choose 5083 aluminum plate as the raw material.
5083 aluminum sheet plate is commonly used in tank truck (fuel tanker, air reservoir, powder tanker, tankers cylinder, LNG storage tank, tanker trailer, fuel tanker trailer, etc.), ships, vehicle materials, automobile and aircraft plate weldments. It is also used in pressure vessels, refrigeration equipment, TV towers, drilling equipment, transportation equipment, etc. that require strict fire protection.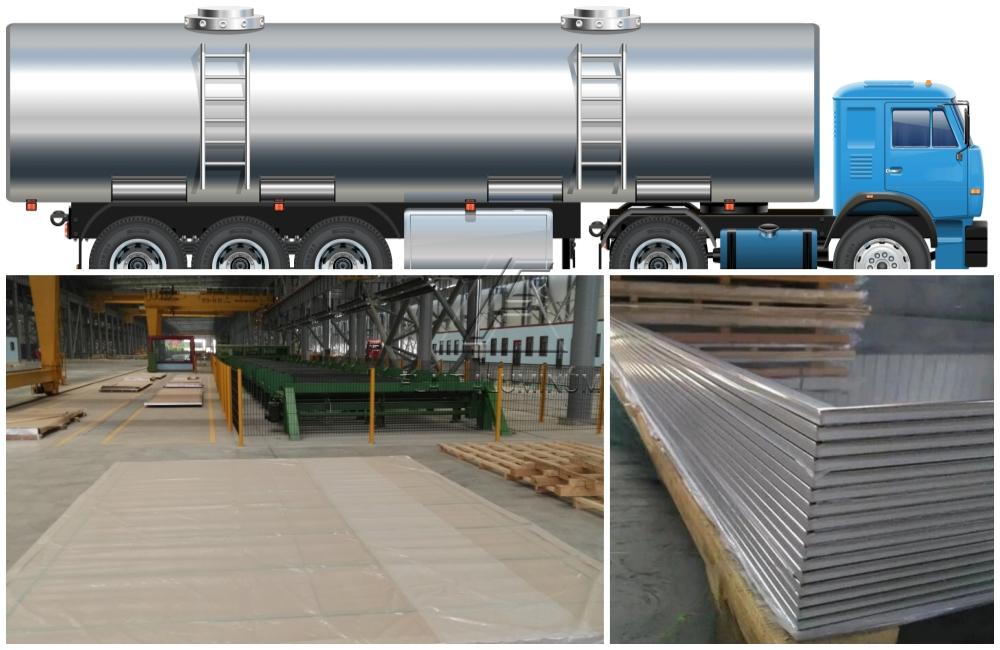 Specification of 5083 aluminum sheet plate for tankers body
A

l

loy

5083

T

emper

O

, H111

T

hickness

(mm)

4-8

W

idth

(mm)

1

500-2650

L

ength

(mm)

2000-16000

S

urface

M

ill finish, bright/mirror finish

S

tandard

G

B, EN, ASTM

Sample

Available
Chemical composition of 5083 aluminum plate for the tanker body
Alloy

Si

Fe

Cu

Mn

Mg

Cr

N

i

Zn

Ti

Z

r

Al

5083
0.4
0.4
0.1

0.40-1.00

4.00-4.90

0.05-0.25

–

0.25
0.15

–

Remainder
Mechanical properties of 5083 aluminum plate for the tanker body
Alloy

Temper

Tensile strength

Rm(Mpa)

Yield strength

Rp0.2(MPa)

Elongation

A(%)

Minimum Bending Radius of 180 Degree

5083

O

2

90-370

≥

145

≥

1

7

1.5T

H111
Advantages of 5083 aluminum plate for the tanker body
Light, energy saving and emission reduction. For tank trucks over 10 tons, the overweight needs to be considered. 5083 aluminum plate replaces the traditional steel as the tank material, which can reduce the weight of the vehicle by about 30%. Moreover, with the weight reduction of the vehicle body, the fuel consumption is also greatly reduced, and the exhaust gas emission is less.
High strength, not easy to deform. 5083 aluminum sheet has high strength, especially high fatigue resistance, high plasticity and corrosion resistance, good plasticity when semi-cold hardening, low plasticity when cold hardening, good weldability, and easy processing.
Good corrosion resistance and long service life. 5083 aluminum plate contains magnesium element, which has good formability, corrosion resistance and weldability. It can meet the corrosion resistance requirements of the tanker body material, and has a long service life.
Good fire resistance and high safety. 5083 aluminum plate sheet has excellent weldability and good cold workability. In case of strong impact, ensure that the weld seam of the tank body is not easy to crack. Also, aluminum alloy has good fire resistance and high safety.
Good environmental protection and high recycling rate. Carbon steel materials cannot be recycled and only be treated as scrap iron; aluminum alloy tanks can be recycled and reused, and the recycling value is also very high.
Original Source: https://www.flait-aluminum.com/Aluminum-Sheet-for-Tank-Truck-Fuel-Tanker.html