The aluminum content of 1060 aluminum plate strip and foil is 99.6%, which is pure aluminum. It has high elongation, tensile strength, excellent conductivity, high formability, and can meet processing requirements (stamping, stretching). 1060 aluminum strips and foils have excellent tensile properties and processing properties, are odorless, non-toxic, stable, and have excellent light-shielding properties, and can be perfectly sealed for pharmaceutical injections and vial seals. 1060-H24 Aluminum plate is hard, it has high elongation and is used for high-speed stamping and forming complex bottle cap designs. It can efficiently produce bottle caps in batches without cracking or tearing. The hardness of 1060-H24 aluminum plate helps protect bottle caps from damage or unauthorized removal, providing safety for bottled products before and during customer use. 1060-H24 aluminum sheet has a bright surface and good coating adhesion. 1060-H24 aluminum plate for bottle caps is mainly used for anti-theft bottle caps, wine, beverages (gas containing or non-gas) and medical and health care products, and can meet the special requirements of high-temperature cooking and sterilization.
The processing of aluminum bottle caps, the requirements for material strength, elongation and dimensional tolerance are very strict, otherwise cracks or creases will occur during processing. The 1060 aluminum sheet strip and foil for bottle caps produced by Flait Aluminum has good tensile properties, ear-making rate and corrosion resistance; the surface is free of oil stains, dents, inclusions, scratches, stains, oxide discoloration, fracture, corrosion, roll marks. Commonly used specifications are thickness 0.12mm-0.50mm, width 100mm-1600mm, and can be customized for production.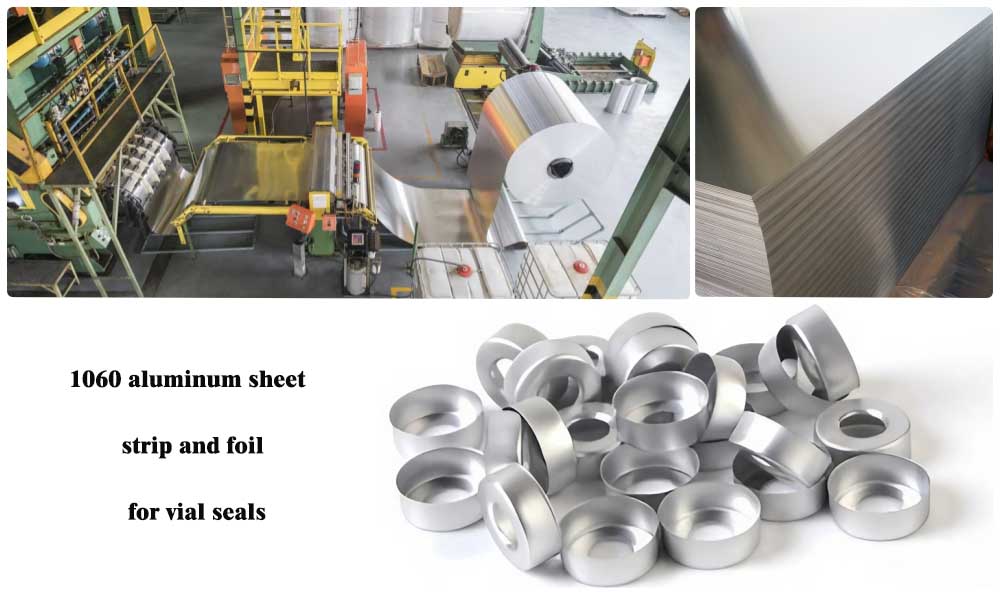 Advantages of 1060 aluminum sheet strip and foil for vial seals
1060 Aluminum alloy as a high-purity aluminum plate, has good electrical conductivity, thermal conductivity and weldability. The thermal conductivity and electrical conductivity of 1060 aluminum plate and foil are second only to copper, silver and gold.
1060 aluminum plate strip and foil has good elongation and processing performance, plasticity, and moderate tensile strength. It can meet conventional processing needs, stamping, stretching, and high formability.
1060 aluminum alloy has excellent stability and can withstand high and low temperatures (-20℃ to +250℃) without changing its properties.
1060 pure aluminum alloy has good light shielding, insulation and corrosion resistance, and the anodizing surface treatment effect is obvious.
1060 aluminum bottle caps are highly recyclable and support the sustainable use of resources.
Caps made of aluminum help make bottles more portable and reduce shipping costs for bottling and distribution.
We can customize production according to customer requirements and provide FREE SAMPLES.
Specification of 1060 aluminum sheet strip and foil for vial seals
Alloy

1060

Temper

O,H22,H24

Thickness

0.15-0.5mm or as required

Width

500-2500mm

Length

Customized

Tolerance

±

1%

Surfacetype

Plain mill finish aluminum strip




DOS oil lubricated finish




Chromated finish




One side golden/white/red/blue/black, etc. other colored, other side protective lacquered




Both sides clear/transparent lacquered

Processing service

Bending, 

d

ecoiling, 

w

elding, 

p

unching, 

c

utting

Use

Aluminum liquid caps, anti-theft bottle caps, cosmetic bottle caps, oral liquid aluminum-plastic composite caps, infusion bottle aluminum-plastic caps, etc.

Delivery time

20-25 

days

Packing

Export fumigated wooden frame or wooden case fine packing or as required

Sample
Available
Tolerance range (mm)

Thickness
Thickness tolerance
Width tolerance
Length tolerance
Diagonal tolerance
Flatness
≤500 mm
>500 mm

0.15~0.48mm

-/+0.01mm

-/+1mm

-0/+2mm

-0/+1mm

≤1mm

≤5mm/2m

<

3

 wave/meter
C

hemical composition Wt

(

%

)

Alloy

Si

Fe

Cu

Mn

Mg

Zn

Ti

Others

Al

1060/A1060

≤0.25

≤0.35

≤0.05

≤0.03

≤0.03

≤0.05

≤0.03

0.03
Remainder
Mechanical properties

Alloy

Temper

Thickness(mm)

T

ensile strength (Rm/Mpa)

Elongation (%)

Earring rate (%)

1060

O

0.15~0.5

55~95

15/18

≤

6

1060

H22

0.4~0.5

75~110

6
≤5
Original Source:https://www.flait-aluminum.com/Aluminum-Sheet-Coil-for-Cap-Closure.html