1060 aluminum coil belongs to industrial pure aluminum, with an aluminum content of more than 99.60%. It has high ductility, corrosion resistance, electrical conductivity and heat transfer, but the strength is low, the heat treatment process cannot be strengthened, and the drillability is not very good; it can be gas cutting, hydrogen atom welding and touch welding, and it is not easy to braze; easy to withstand various pressure processing and extension, bending. The shear strength of 1060 aluminum coil is similar to 1050 aluminum coil, but the fatigue strength is better than 1050, and the hardness is also better than 1050 aluminum coil.
1060 Thermal insulation aluminum coil is famous for its excellent welding properties and ductility, and it can be cold or heat treated according to commercial technology. It cannot be hardened by heat treatment, but can only be hardened by cold drawing. Temper are H24, H12, H14, H16 and H18. In addition, 1060 insulation aluminum coil has excellent corrosion resistance and weak mechanical performance, and its mechanical performance can be improved when temper H16 and H18 are hard (cold drawn).
1060 thermal insulation aluminum coils are mainly used for anti-rust and thermal insulation projects of pipelines, equipment, workshops, buildings and other facilities. Insulation aluminum coils are mainly divided into 1 series of pure aluminum, 3 series of aluminum-manganese alloys, and 5 series of aluminum-magnesium alloys. Among them, the 1 series of pure aluminum is the most commonly used and the price is the lowest. 1060 is the representative of the 1 series of aluminum coils, and has the highest cost performance. At present, 70-80% of the aluminum jacketing in the insulation industry use 1060 aluminum coil.
Flait Aluminum can provide a large number of jacketing insulation aluminum coil, with the thickness are 0.3 mm, 0.35 mm, 0.4 mm, 0.45 mm, 0.5 mm, 0.6 mm, 0.7 mm, 0.8 mm, 1.0 mm. Our company's thermal insulation aluminum coil can be produced according to the needs of users, and small rolls can be provided, and the price is competitive.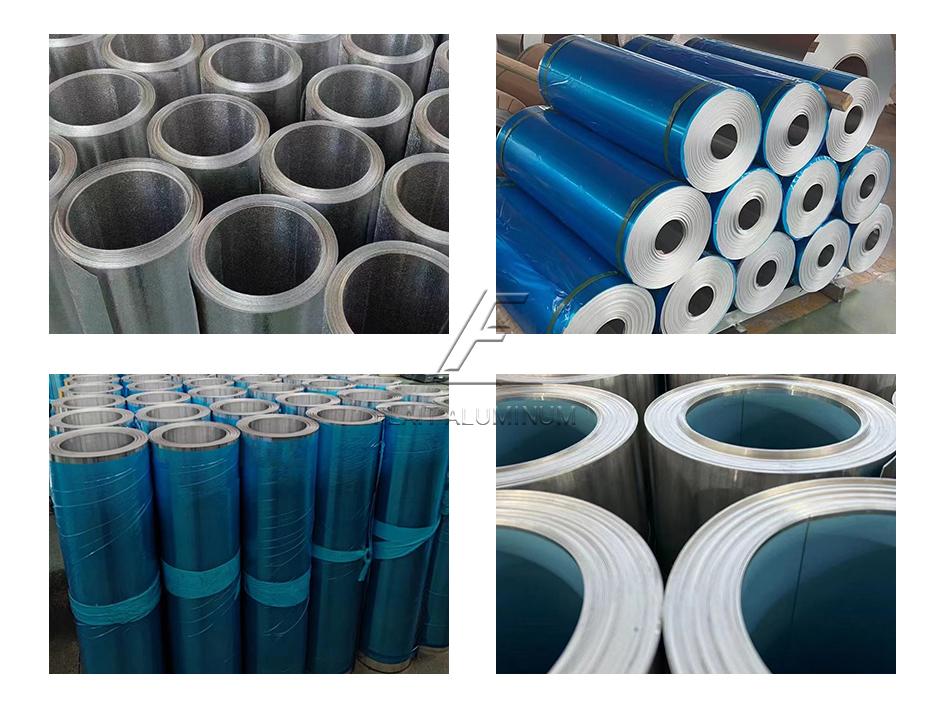 Specification of 1060 H24 Aluminum Jacketing Insulation Roll
Alloy

1050, 1060, 1100, 3003, 3105, 5005, 5052, etc.

Temper

H14, H16, H24, H26

Thickness (mm)

0.3-1.5

Width (mm)

914 ,1000 ,1200 ,1219 , etc.

Length

 (mm)

50′ (15 meters), 100′ (30 meters), 200′ (60 meters), 300′ (90 meters), Coil (specify lengths), Flat Sheets (cut to length), Cut & Rolled (to specific lengths)

Inner diameter

75mm, 150mm, 305mm, 405mm, 505mm with or without paper core

Surface treatment

Mill finish, smooth/plain, stucco embossed, corrugated

Moisture barrier

Polysurlyn, composite kraft paper

Surface lamination

Kraft paper laminated

Kraft paper thickness

About 0.1mm

Polysurlyn thickness

About 0.076mm (3mil)

Quality standard

ASTM B209,ISO9001,GB/T3880

Quantity

Have ready stock for most common thickness roll small quantity order are acceptable.
Advantages of 1060 H24 Aluminum Jacketing Insulation Roll
The thermal insulation aluminum coil has the performance of anti-rust and corrosion resistance. Compared with the iron sheet, the thermal insulation aluminum sheet has a longer service life, can better adapt to the outdoor environment, is not easy to corrode, and has a beautiful surface. Therefore, many electric power and chemical companies now use thermal insulation aluminum skins as insulation materials.
The fire insulation, heat preservation function and fire resistance function of heat preservation aluminum coil are also very good. Insulated aluminum panels will not melt at high temperatures, but will form less original smoke. Strong anti-ignition hole burning and flame extension; even if the thermal insulation aluminum plate catches fire or high temperature, due to its outstanding thermal insulation function, only its appearance heats up quickly, quickly produces coking, exerts flame extension, keeps the inner core from burning, and shows outstanding fire protection function.
The cost of thermal insulation aluminum coil is low. The thermal insulation aluminum skin has a low density, and the same area of the thermal insulation aluminum skin is light in weight and has a high recycling value. Also, the service life of the thermal insulation aluminum sheet is 3-5 times that of the iron sheet, which can save users a lot of labor and material costs.
Original Source: https://www.flait-aluminum.com/Aluminum-Jacketing-Coil-Roll.html
Tags: 1050 aluminum coil , 1060 aluminum coil