Aluminum bottle caps are increasingly used in people's lives. Aluminum anti-theft bottle caps are exquisitely processed from high-quality aluminum alloy materials, such as 8011 aluminum foil, 1060 aluminum coils, etc., and are mainly used for wine and beverages Beverages (sparkled or non-sparkled), packaging of medical and health care products, which can meet special requirements such as high-temperature cooking and sterilization. Aluminum bottle caps are usually processed on automated production lines, so the requirements for material strength, elongation and dimensional deviation are very strict, otherwise cracks or creases will occur during processing. In order to ensure that the bottle cap is easy to print after it is formed, the bottle cap material is required to be flat and free of rolling marks, scratches and stains. The generally used products are 8011-H14 aluminum foil and 1060-H24 aluminum plate, with the thickness of 0.17mm-0.5 mm, width is 449mm-796mm.
1060 aluminum coil strip is a cap making method that combines aluminum and plastic. It is industrial pure aluminum with an Al content of at least 99.6%. Its strength is suitable for stamping and forming processes. 1060-H24 aluminum plate has the hardness and formability required for bottle caps. Since the aluminum-plastic bonded part will come into contact with the liquid in the bottle, most of it is used in the cosmetics industry, and some are also used in the pharmaceutical industry. 8011 aluminum foil generally adopts a cap-making method of direct stamping. Compared with the two alloys, the performance of 8011 aluminum foil is better than 1060 aluminum plate. 8011 Aluminum foil is mainly used for white wine caps, red wine caps and PP/ROPP bottle caps, with stamping depth, good oxidation effect and other characteristics.
The main elements of 8011 aluminum foil are Al-Fe-Si, and the rest are trace impurity elements. Its performance is better than that of pure aluminum foil. 8011 aluminum sheet is not commonly used, but 8011 aluminum foil is widely used, especially in the field of bottle cap materials. 8011 aluminum foil is the main material of PP/ROPP bottle caps. It has good deep drawing performance and low ear-making rate; has a certain strength after work hardening, which is more in line with the requirements of bottle caps. The process of using 8011 aluminum foil for bottle caps is divided into casting and hot rolling. 8011-H18 aluminum bottle cap foil is mainly used for stamping shallow caps, and casting and rolling can be used. 8011-H16 aluminum bottle cap foil is hot-rolled and mainly used for aluminum anti-theft caps; thickness range is 0.15-0.27mm, thickness tolerance is ±0.005mm, width range is 330-1000mm, width tolerance is ±1mm, tensile strength is 150-165Mpa, elongation>2%. 8011-H16 Aluminum foil is used for medical and wine caps. There are still some slight differences in the production process, because the stretching requirements of wine caps are higher than medicinal caps, the annealing is different.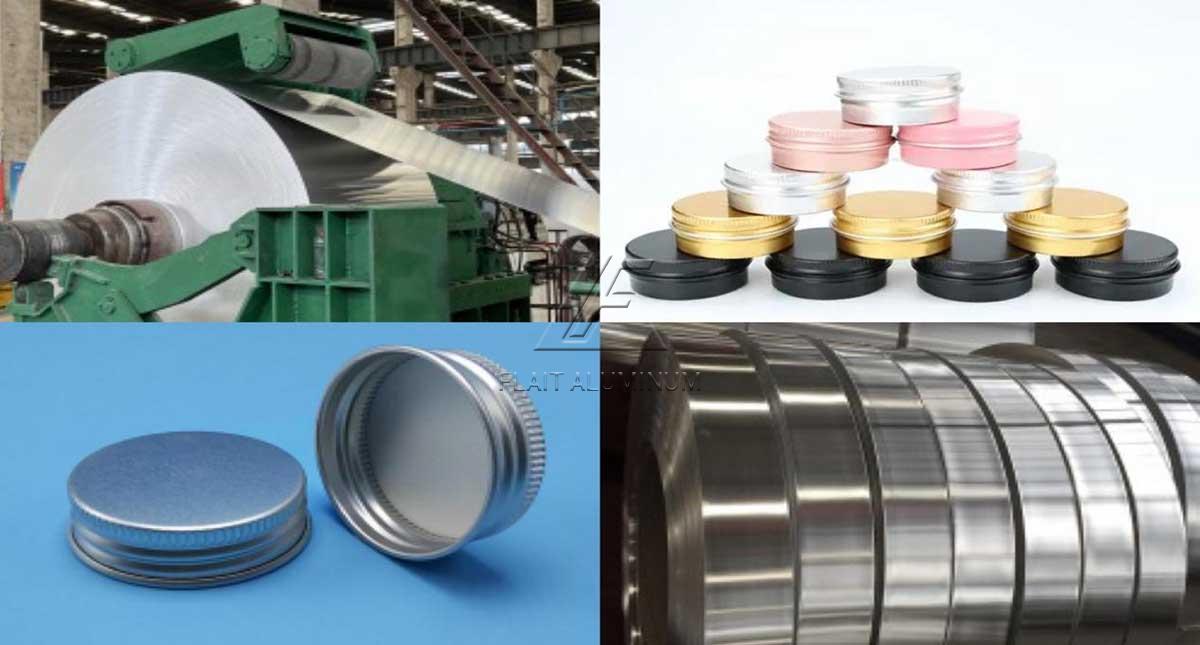 Specification of 1060 aluminum sheet strip & 8011 aluminum foil for anti-theft bottle caps
Alloy

1060 Aluminum sheet plate

8011 Aluminum foil

Temper

O,H22
H14,H24,H16,H26,H18

Thickness

0.15-0.5mm

Width

500-2500mm

Rolling Process

CC/DC

Surface Treatment

1. Plain mill finish aluminum strip
2. DOS oil lubricated finish
3. Chromated finish
4. One side golden/white/red/blue/black,etc other colored, other side protective lacquered
5. both sides clear/transparent lacquered

Application

Bottle caps, aluminum liquid caps, red wine caps, anti-theft caps,perfume caps, skin care product caps, cosmetic caps, oil caps,aluminum-plastic composite caps for oral liquid,aluminum-plastic caps for infusion bottles, etc.

Delivery time

25-30 days

Package

Export package

Samples

Available
Mechanical properties:
Alloy

Temper

T

hickness(mm)

Tensile strength

(Rm/Mpa)

Elongation(%)

Earing ratio (%)

1060

O

0

.15-0.5

5

5-95

15
6
1060

H

22

0

.4-0.5

7

5-110

6
5
8011

H

14

0

.15-0.5

1

25-165

2
3
8011

H

16

0

.15-0.5

1

30-165

1
3
8011

H

18

0

.2-0.5

≥

1

65

1
3
Original Source: https://www.flait-aluminum.com/Aluminum-Sheet-Coil-for-Cap-Closure.html
Tags: 8011 aluminum foil , 1060 aluminum coil , 8011 aluminum sheet